Everglide Large Attack Pad review

Posted by Julio Franco on August 19, 1999
A review of a mouse pad is not something we are used to see everyday, I mean, usually most of us are always looking for reviews about system peripherals that will improve our PC performance (video cards… anyone?) or our productivity.
But let's think about it again, other peripherals like the keyboard and mouse (and mouse pad, of course) are the ones to which we are in contact most of the time, so why not upgrade them as well if they can make you feel much more comfortable.
I've been using Microsoft's ergonomic keyboard and mouse for half a year now and my experience has been great, although some people will disagree, in my opinion they were totally worth the extra money I would have paid for generic parts.
However after those 6 months of using my ergonomic equipment I started having trouble with my mouse, it didn't feel too smooth as it used to. I had already cleaned my mouse two weeks ago, so what could have happened? …
Apparently my "standard" fabric mouse pad wasn't working they way it should, the first two months of use were ok, no real complaints in that period of time. But after some months of use it started to accumulate dust and that caused my mouse to get dirty VERY fast, not only that but it lost all the tracking and smooth sensation I used to get with it.
Since the mouse pad is made of fabric and rubber it's unwashable so the only solution was getting a new mouse pad, then was when I got to this conclusion… having a good mouse pad is as important as having a good mouse in the long run.
I had heard of 3M mousing surface but comments about it weren't too good after months of use and I just didn't want to happen the same thing I experienced with the fabric mouse pad, then was when I went for Everglide, an innovative mouse pad made of high-density plastic
There are three versions of the mouse pad:
Mousing Surface ($12.95/ 91/4" High, 81/2" Wide, 1/4"Deep) – This one is the standard square shaped mouse pad but of course with the innovative surface.

Small Attack Pad ($14.95/8" High, 91/4" Wide, 1/4" Deep) – A small rounded mouse pad with a curve in the bottom which makes you feel more comfortable.

Large Attack Pad ($16.95/8" High, 101/2" Wide, 1/4"Deep) – A larger (way better in my opinion) version of the Small Attack Pad.
I ordered the Large Attack Pad and as soon as I got it I started a Quake2 CTF match to see what this mouse pad could do for me, and I was really amazed. It felt much more comfortable than my old mouse pad, the area was larger and it really helped for big turns and all that stuff.
I really found the Everglide Large Pad to be worth the 20 bucks, not only for the hardcore/average gamer but also to any person that spends a lot of time on his computer everyday.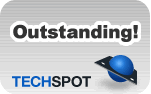 Company: Everglide Product: Large Attack Pad