Everglide Giganta mousepad
Posted by Thomas McGuire on March 17, 2000 - Page 3/3
Company: Everglide Product:

Giganta mousepad
Out with the new, in with the old?
For sake of comparison I decided to leave my Giganta to the side & put back my old mousepad just for the sake of it. My first thoughts were that – The tracking is rather bad (comparatively). I also had the urge to check my mouse for built up dirt on the rollers, this wasn't a problem however, and it was the mouse pad that was the problem. I really binned the old pad this time & got back to the smoother scrolling world the Giganta offered me.
Conclusion
While the cost may seem steep ($21.95 for the Giganta pad blue limited edition, $18.95 for the Giganta pad black), this will last you a long time & I can guarantee you'll be happy with how much of an improvement this is over one of them "generic" mouse pads, especially over cloth mouse pads.
Those of you out there who want to perfect their deathmatch/aiming skills will want a mouse pad to suit their needs. This most certainly is it. This is as close to perfection as you will find in any product. I would totally recommend to anyone that they purchase one of these mouse pads if they don't have one yet.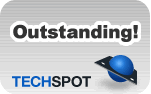 Company: Everglide Product: Giganta mousepad