Cuando Via anunció que estaban preparando una cantidad importante de procesadores para cubrir un pedido fue fácil asumir que alguien se estaba preparando para lanzar una ultra-portátil o computadora de escritor económica con esta plataforma. Sin embargo no fue sino hace poco que
Samsung confirmó
a través de un comunicado de prensa que serian ellos. La compañía dio a conocer que su ultra-portátil Samsung NC20 contará con el procesador U2250 de 1,3GHz. Este es una gran oportunidad para Via que ha estado luchando por establecerse en este mercado. Dependiendo del éxito de esta nueva portátil, este fabricante de chips podría recibir un muy necesitado aumento de popularidad.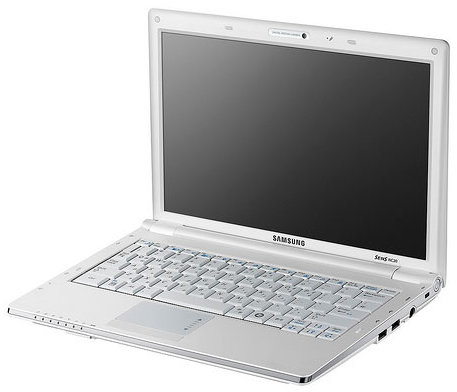 La NC20 continua disipando la línea entre las ultra-portátiles y las portátiles tradicionales gracias a su pantalla LED de 12,1 pulgadas con una resolución de 1280x800. Además cuenta con un 1GB de memoria DDR2, gráficos Via Chrome9, disco duro de 160GB, Wi-Fi 802.11g, Bluetooth, teclado completo, y una batería de seis celdas que supuestamente dura seis horas. El precio sin duda será un factor importante para que Via robe algo de la participación de Intel en este mercado. No se dio a conocer la fecha de lanzamiento para la Samsung NC20 ni su precio pero puedes leer el boletín de prensa al continuar leyendo.
Samsung Adopts VIA Nano Processor for the Samsung NC20 12.1″ Mini-Notebook
VIA Nano processor platform enables the Samsung NC20 to deliver superior performance and battery life in a sleek 12.1″ mini-notebook form factor
Taipei, Taiwan, 27 February 2009
- VIA Technologies, Inc, a leading innovator of power efficient x86 processor platforms, today announced that Samsung has adopted the VIA Nano processor in the new Samsung NC20 mini-notebook.
Combining the power efficient 1.3+GHz VIA Nano™ processor with the highly-integrated VIA VX800 system media processor, the Samsung NC20 also features a stunning 1280×800 12.1″ display, ensuring an outstanding video experience and enabling a full-size 12″ notebook keyboard with optimized 18.5mm key spacing and larger touchpad in a highly portable device that weighs just 1.52kg.
Mobility is enhanced by 802.11b/g and Bluetooth wireless connectivity, and a six-cell battery that provides up to 6.5 hours of use independent of any power supply, while storage options include either a solid state disk or a SATA hard disk drive. Other features include an integrated 1.3 mega pixel digital motion camera, 3-in-1 memory card reader and three built-in USB ports.
"We are delighted that Samsung has adopted the VIA Nano processor for the Samsung NC20," said Richard Brown, Vice President of Marketing, VIA Technologies, Inc. "This is a truly ground-breaking product that sets the new industry standard for consumer mini-notes and clearly demonstrates the advanced performance of our VIA Nano processor platform."
Samsung NC20 Mini-Notebook Specifications
Screen: 12.1″ LED WXGA (1280 x 800)
CPU: VIA Nano™ ULV Processor U2250 (1.3+GHz, 800MHz)
Chipset: VIA VX800 Unified Digital Media IGP Chipset
Graphics: Integrated VIA Chrome9™ with DirectX 9.0 3D graphics support and hardware video acceleration
OS: Microsoft○R Windows XP Home Edition
Memory: 1GB DDR2 (1*SODMM)
Storage: 160GB HDD (9.5mmH 2.5"HDD, SATA)
Webcam: 1.3 Mega pixels web camera
LAN: 10/100Mbps LAN
Wireless: Atheros 802.11 b/g
Bluetooth: 2.0+EDR (Enhanced Data Rate)
I/O Ports: USB2.0 x 3, Ethernet LAN, 3-in-1 card reader
Battery: 6 cells Li-ion Battery Standard
Dimensions: 292.4mm x 217mm x 30.7mm
Weight: 1.52kg
Special Features: 6.5 hours battery life
Colors: White