Following its E-Ten acquisition almost a year ago, Acer made no secret of its plans to enter the smartphone market in 2009 and more recently confirmed that an Acer-branded device was due soon. Well, now we have a firm date – Acer today sent out a teaser invitation to various sites calling them to a smartphone launch on February 16 at the Mobile World Congress event in Barcelona.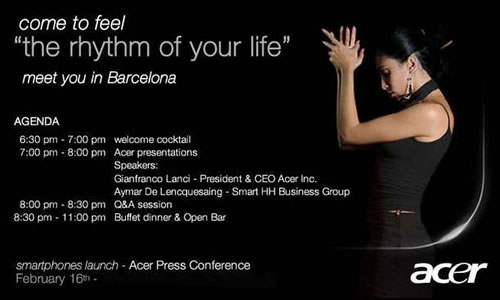 Although the company has been tight-lipped on design and software specifics, previous reports have hinted at a Windows Mobile-powered device, hopefully running the interim 6.5 version. What's more, the company is likely to announce several models rather than just a single unit. Here's what their official
MWC 09 profile
has to say: "Now Acer enters the Smart Handheld market with an
exciting range of easy to use devices
designed to offer phone capability, simple one hand usability and complete connectivity." We'll keep you updated with the details as they arrive.