As expected, Valve will be pushing out the latest DLC for Left 4 Dead this month. Dubbed "Crash Course," the add-on will arrive next Tuesday, September 29. Crash Course brings a new campaign, which falls between the events of "No Mercy" and "Death Toll," and will feature new locations, dialogue, refined item spawning and more. The new content will be available to PC gamers free of charge via Steam, but owners of the Xbox 360 version can expect to pay some 560 Microsoft Points -- about $7.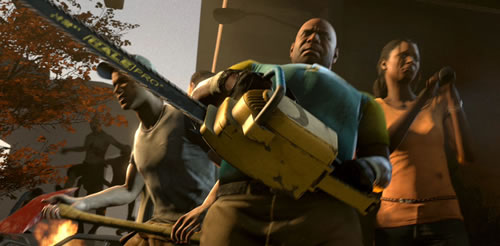 Meanwhile, Valve is gearing up to launch a demo of the upcoming sequel, aptly named
Left 4 Dead 2
. Shacknews reports that you'll be able to take the demo for a spin on October 27 -- that is, unless you're too busy
picketing in the streets
. They also note that people who pre-order L4D2 will have
exclusive access
to the demo, and will receive a special melee weapon -- the baseball bat. The completed sequel is due to arrive on November 17 -- hopefully Valve will have
things in Australia sorted
by then.