Nvidia's "must see" presentation of the Fermi-based GeForce GTX 480 and 470 is still over a month away, but the company has apparently cooked up a few minor announcements for us in the meantime. First off, keeping up with its increasingly common tradition of rebranding old products, Nvidia has quietly released three new OEM-only GT 300 cards: the GT 320, GT 330 and GT 340. The GT 340 is spec-for-spec exactly the same as their lackluster GT 240 except it is only available as a GDDR5 variant. Meanwhile, the GT 320 has been upgraded with 72 CUDA cores compared to 48 for the GT 220, and the GT 330 is quoted as having either 96 or 112 CUDA cores with 256-bit, 192-bit and 128-bit variants. The new introductions join the GT 310 and 315 as part of the GeForce 300-series range.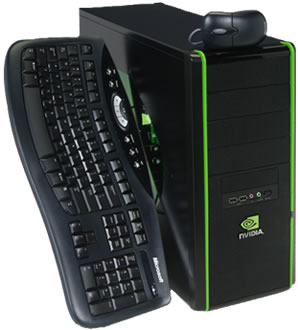 The company also released a
GeForce PC Kit
with all the necessary components for beginner hobbyists to build themselves an Nvidia-branded system. This includes a MSI G31TM-P21 board, Intel Pentium E5300 CPU, GlacialTech Igloo 5058 cooler, 2GB of Corsair Value Select DDR2 667 memory, Seagate Momentus 7200.4 250GB HDD, LG DVD RW optical drive, XFX 9800GT 512MB graphics card, Ultra LifeTime series 500W PSU, a Cooler Master Elite 334 Nvidia Edition chassis and a Microsoft Basic mouse and Comfort Curve 2000 keyboard -- all for
just under $500
. It even includes a screwdriver so basically all you need is a monitor to plug in once you are done with the assembly and your own operating system to install. To ease the process, Nvidia's GeForce PC Kit comes with the CPU and cooler pre-installed on the motherboard, in addition to a complete guide to building a computer system. The kit is primarily targeted at first-time PC builders, as more seasoned enthusiasts will
build their own rigs
anyway.