Acer has introduced a new ultra-compact PC suitable for both home media and general purpose uses. The Apsire Revo 3700 packs some respectable horsepower into a one-liter chassis, including a dual-core 1.8GHz Intel Atom D525 processor and an Nvidia Ion GPU. The machine can handle 1080p HD media, and Acer says it can cope with DirectX 10 games "at great frame rates." That's misleading and subjective at best, but the Ion's no slouch to be sure.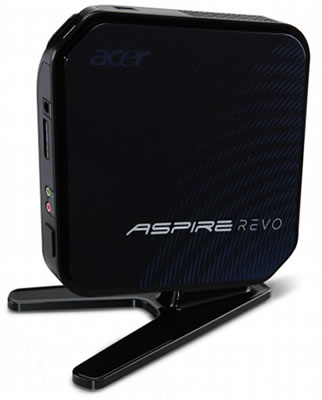 Internally, there's also 4GB of DDR3 memory and a 500GB hard drive. Meanwhile, the outside reveals four USB 2.0 ports (no USB 3.0), VGA and HDMI outputs, and a mini-PCIe slot. Gigabit Ethernet and 802.11b/g/n connectivity are also present. An official release date hasn't been, but you can expect the Revo 3700 to appear later this year at a somewhat discouraging price of around $580 -- or more expensive than our
entry-level gaming rig
.