Last year, Warner launched an initiative dubbed DVD2Blu that allowed customers to trade select DVD titles for Blu-ray versions. The studio charged $7.95 to $9.95 per exchange, and while that was generally cheaper than retail, the program was limited to Warner's own films. Broadening its reach, the company has recently updated its offering to include virtually all DVDs. "Qualifying DVDs include any Warner Bros. or non-Warner Bros. pre-recorded discs that contain professionally produced film content purchased at a regular retail or e-commerce store (excluding adult content," reads the promotion page. In other words, seemingly any studio-made movie bought at retail qualifies -- barring porn.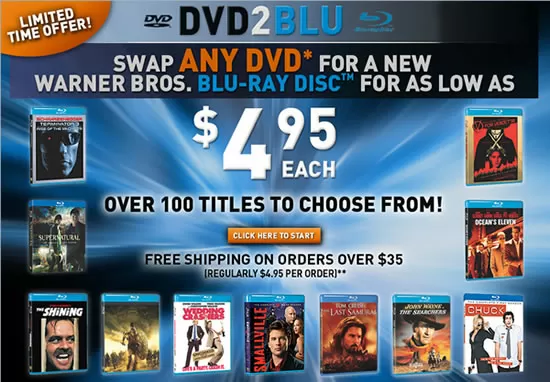 There are currently 105 Blu-ray titles to choose from on the DVD2Blu site, including both
movies
and
TV shows
. A few names include Blood Diamond, Gran Torino, Pan's Labyrinth, Terminator 3: Rise of the Machines, as well as seasons of Fringe, Nip/Tuck, Smallville, Chuck and other shows. Prices range from $4.95 to $19.95 per trade with $4.95 for shipping (free shipping on orders over $35). The exchange process isn't quite as fast as buying the videos outright, but Warner says you should receive your Blu-ray discs in three to four weeks.