A shred of photographic evidence of Nvidia's rumored dual-GPU GeForce GTX 59x has emerged online, courtesy of Chinese site eNet.com. Earlier reports referred to the card as a GTX 590, but the Chinese media is calling Nvidia's upcoming entry the GTX 595. No matter its name, the card should pack quite the punch, supposedly featuring two GF110 graphics processors -- the same architecture Nvidia used in its recently launched single-GPU flagship, the GeForce GTX 580. It remains to be seen if the card will pack twin GF110-based chips, and if it does, many suggest they won't be quite as fast as the GTX 580's.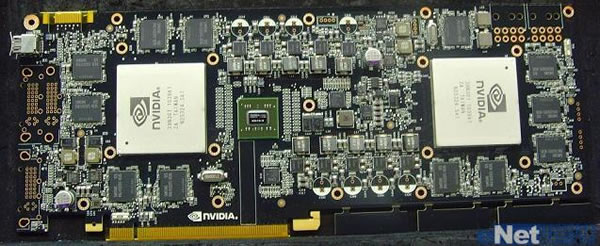 Instead, the GTX 59x could be powered by two cut down GPUs that will be used in the card(s) below Nvidia's GTX 580, such as the GTX 570. Those chips, whatever they may be, will supposedly be linked via the NF200 SLI bridge. There's also talk of 3GB of VRAM, or 1.5GB per GPU, but further specs are unclear. It's worth noting that most Nvidia cards can only drive two displays at once, but the GTX 59x is said to have three DVI outputs. Supporting tri-display setups out of the box could make it the go-to card for
Nvidia's 3D Vision Surround
technology, which currently requires two cards (barring the GTX 295 with projectors).