The flashlights look pretty good. As I went through my notes searching for something positive I'd written about Medal of Honor Warfighter, that line stuck out to me. "The flashlights look pretty good." They do look pretty good. Whatever lighting magic Electronic Arts has handed around to its subsidiary studios is nifty and authentic-looking. Often, when a guy shines his flashlight at you, you'll think, "Wow, that really looks like a guy with a flashlight!" before shooting him. If only the rest of the game measured up.
The questionably-named Medal of Honor Warfighter is a first-person military shooter developed by Danger Close and published by EA. The Medal of Honor series has become, in most every respect, a flagrant imitation of Activision's much ballyhooed Call of Duty series. You play the game from the first-person perspective. You hold a machine gun and shoot bad guys, almost exclusively foreigners. That's about all there is to it.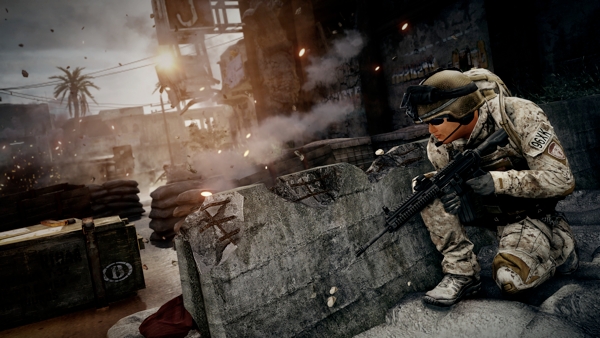 The video game industry perpetuates a number of tiresome trends, but none is more remarked-upon than the reign of the realistic military shooter. Ever since 2007's (quite good) Call of Duty: Modern Warfare, the world of video gaming has seen shooter after shooter after shooter after shooter, all set in modern times, all dedicated to the deft recreation of the latest in man-killing machinery. Given the earth-shattering financial success these types of games find, casual observers could be forgiven for assuming that all gamers prefer to view the world through a reflex sight down the barrel of a gun.