Test System Specs & SiSoftware
System specifications for all testing beds are below. You will want to notice that our Core 2 Quad comparison machine is using a Q9650 chip which is the fastest processor currently available in that family bar the Extreme Edition, of course. With the recent CPU price cuts, the Q9650 is available in the ~$320 range which is higher than the Phenom II X4 940 ($235).

Phenom Test System Specs
- AMD Phenom II X4 940 (AM2+)
- AMD Phenom II X4 920 (AM2+)
- AMD Phenom X4 9950 (AM2+) - x2 Kingston HyperX 2GB DDR2-1066 (CAS 5-5-5-15)
- ASUS M3A79-T Deluxe (AMD 790FX)
- OCZ GameXStream (700 watt)
- Seagate 500GB 7200-RPM (Serial ATA300)
- ASUS GeForce GTX 280 (1GB)
Software
- Microsoft Windows Vista Ultimate SP1 (64-bit)
- Nvidia Forceware 180.43 Beta

Core i7 Test System Specs
- Intel Core i7 965 Extreme Edition (LGA1366)
- Intel Core i7 940 (LGA1366)
- Intel Core i7 920 (LGA1366)


- x3 1GB DDR3-1066 Samsung (CAS 7-7-7-20) - Intel DX58SO (Intel X58) Pre-Production
- OCZ GameXStream (700 watt)
- Seagate 500GB 7200-RPM (Serial ATA300)
- ASUS GeForce GTX 280 (1GB)
Software
- Microsoft Windows Vista Ultimate SP1 (64-bit)
- Nvidia Forceware 180.43 Beta


Core 2 Test System Specs
- Intel Core 2 Quad Q9650 (LGA775)
- Intel Core 2 Duo E8600 (LGA775)
- Intel Core 2 Duo E6700 (LGA775)


- x2 Kingston HyperX 2GB DDR3-1333 (CAS 7-7-7-20)
- ASUS Rampage Extreme (Intel X48)
- OCZ GameXStream (700 watt)
- Seagate 500GB 7200-RPM (Serial ATA300)
- ASUS GeForce GTX 280 (1GB)
Software
- Microsoft Windows Vista Ultimate SP1 (64-bit)
- Nvidia Forceware 180.43 Beta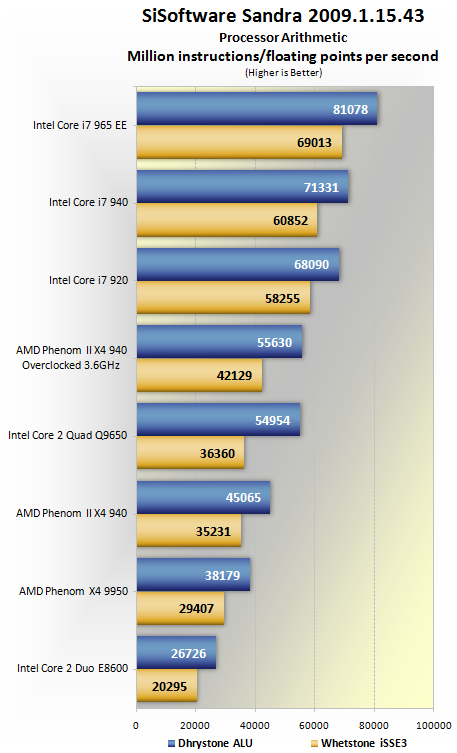 First up we have the SiSoftware Sandra 2009 processor arithmetic test, which was used to measure ALU and iSSE3 performance. Given that the Phenom II X4 940 has received a 20% overclock, we are not expecting more than a 20% performance boost; in fact this would be a best case scenario.
The Whetstone iSSE3 test did see a 20% increase in performance when going from 3.0GHz to 3.60GHz.
Then the Dhrystone ALU test saw an unexpected 23% rise in performance which was impressive. These gains put the Phenom II X4 ahead of the Core 2 Quad Q9650 in the processor arithmetic test.