Posts: 15,008 +190
Staff member
Why it matters: AMD in a recent 'Meet the Experts' partner webinar shared an updated desktop socket roadmap that sheds a bit of light on where the chipmaker will be heading in the next couple of years. Socket AM5 (LGA 1718), which debuted late last year, will stick around until at least 2026 and will support new CPU core and graphics upgrades on an annual cadence. At that rate, we could see at least two more Ryzen desktop generations for the socket before it gets replaced by something newer.
The roadmap also references AMD Ryzen 8000 Series that will utilize Zen 5 and Navi 3.5 architectures – the first time AMD has publicly confirmed Ryzen 8000 details.
It is not uncommon for AMD to skip entire "generations" when numbering its desktop parts. Most recently, the company jumped over the 6000 series and went from Ryzen 5000 directly to Ryzen 7000. Is there anything that can be gleaned from reading between the lines here? Maybe.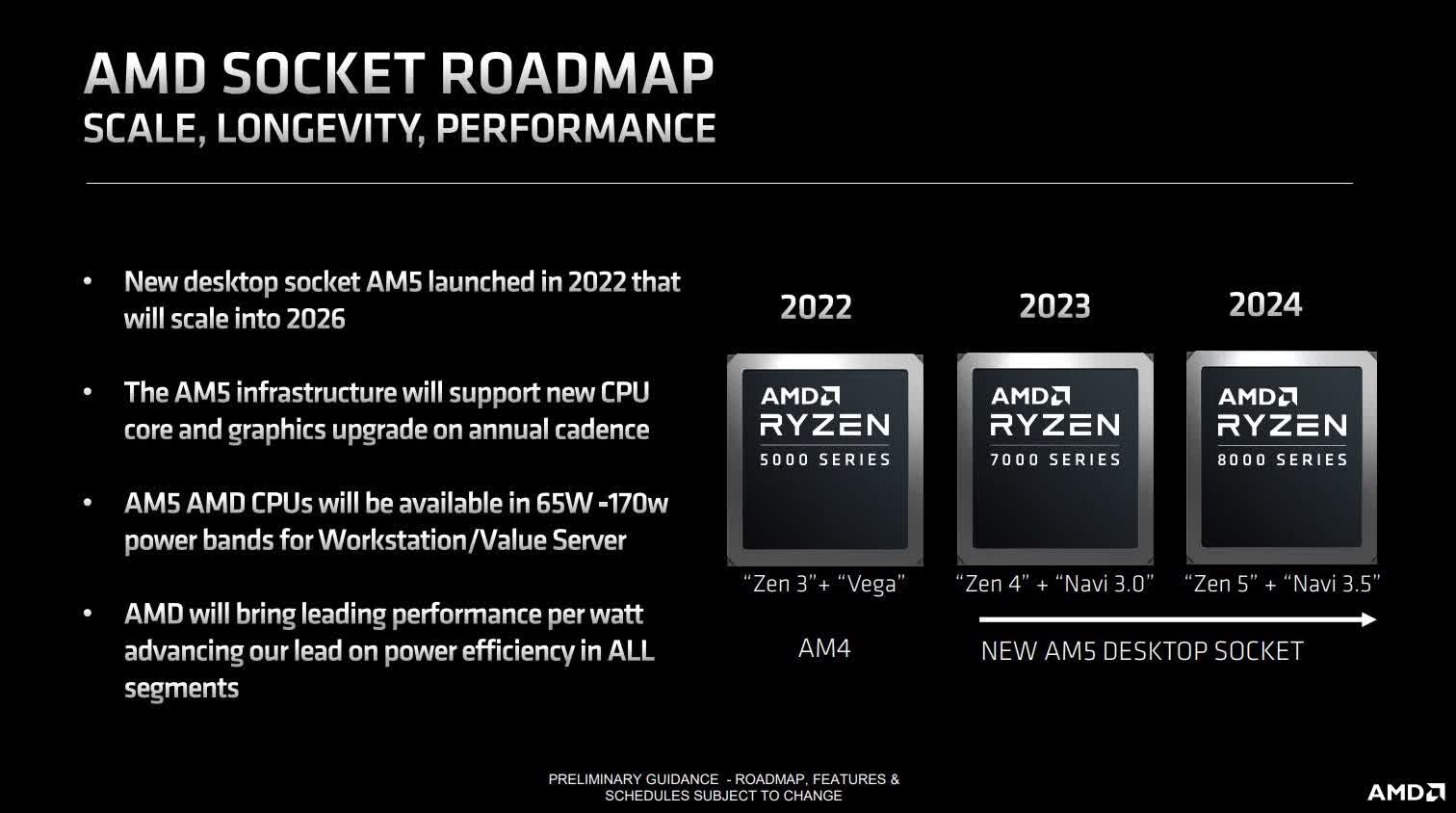 What appears more certain is that Navi 3.5 will be an incremental upgrade to AMD's graphics architecture. Details were not provided, but this could simply be a die shrink of Navi 3 to boost clock speeds and improve efficiency.
Earlier roadmaps have pointed to the next Ryzen desktop series carrying the codename Granite Ridge (mobile platforms are reportedly codenamed Strix Point). A leak from last month claimed Granite Ridge will top out at 16 cores / 32 threads with a max TDP of 170 watts, and will be built on TSMC's N3E or N3P manufacturing node. Cache levels will reportedly mirror those of their Zen 4 predecessors but unfortunately, details like clock speeds were not shared.
According to the leak, which is said to have come from a document supplied to a board partner, Ryzen 8000 series chips will launch sometime in the second half of 2024.
The full slide deck for the Meet the Experts showcase is available online but mostly caters to the server crowd.
https://www.techspot.com/news/98952-amd-confirms-zen-5-based-ryzen-8000-series.html