In brief: After many years of waiting, MacBook Air fans can now look forward to using a 15-inch version that is still thin and light but offers more screen real estate. Apple says you can get up to 18 hours of battery life with the new device, and has also cut the price of the smaller 13-inch M2 MacBook Air by $100.
At WWDC 2023 today, Apple unveiled the much-awaited 15-inch MacBook Air. Notably, this is the evolution of a product concept that former CEO Steve Jobs scrapped in favor of smaller 13-inch and 11-inch versions due to weak hinges that supposedly couldn't handle the weight of the larger screen.
The new MacBook Air is 11.5 mm thin, and Apple says that makes it the world's thinnest 15-inch laptop. It also weighs 3.3 pounds (1.5 kg), which the company calls "incredibly portable" compared to one of the best-selling 15-inch Intel Core i7 Ultrabooks on the market. We're assuming Apple is referring to the Acer Aspire Vero AV15, which weighs in at 3.97 pounds.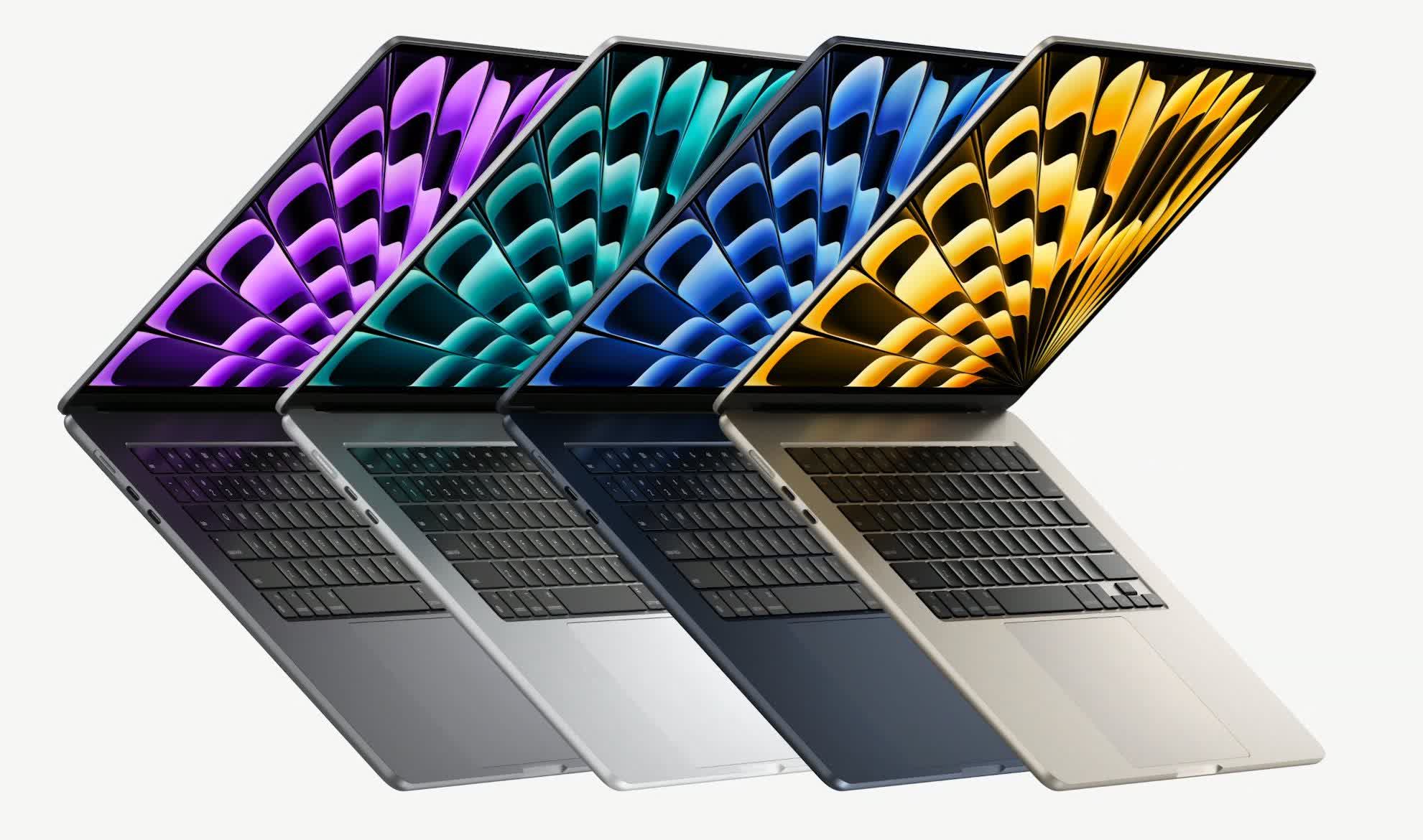 Some of the highlights of the new device are the larger screen and M2 chipset, which Apple says is 12 times faster than the fastest Intel-based MacBook Air. The 15.3-inch screen has support for one billion colors, 5 mm borders, and can reach a peak brightness of 500 nits. If you need more screen real estate, you'll be able to connect up to a 6K external display, just like with the 13.6-inch MacBook Air.
Apple is touting the 1080p FaceTime HD webcam at a time when manufacturers in the Windows land are announcing laptops with 1440p webcams. However, the company believes a three-microphone array with "advanced beamforming algorithms" along with six speakers (two tweeters and two "force-canceling" woofers)and support for Dolby Atmos will make the audio experience better than what you get on a typical Windows ultrabook.
Otherwise, the overall design is identical to the 13-inch MacBook Air. You have four color options (Silver, Space Gray, Starlight, and Midnight), two Thunderbolt ports, a MagSafe charging port, and a headphone jack. Apple claims you can get about 18 hours of battery life, but the fanless design means it will likely throttle under heavier workloads, just like the 13-inch MacBook Air.
You can configure the new MacBook Air 15 with up to 24 gigabytes of RAM and two terabytes of storage, and the cheapest model with eight gigabytes of RAM and 256 gigabytes of storage will set you back $1,299 ($1,199 for education). The 13-inch MacBook Air with M2 will now start at $1,099 ($999 for education), while the M1 MacBook Air starts at $999 ($899 for education).
https://www.techspot.com/news/98953-apple-m2-powered-153-inch-macbook-air-now.html