Posts: 9,135 +117
Staff member
WTF?! Dbrand, the peripheral company that isn't afraid of being sued, could be about to go up against one of the most litigious firms in the world, Nintendo, by releasing a set of Zelda-like themed decals. Not only is it risking Nintendo's wrath for potential copyright infringement, but Dbrand also included a coded message in the stickers that reads, "Go fu*k yourself lawyers."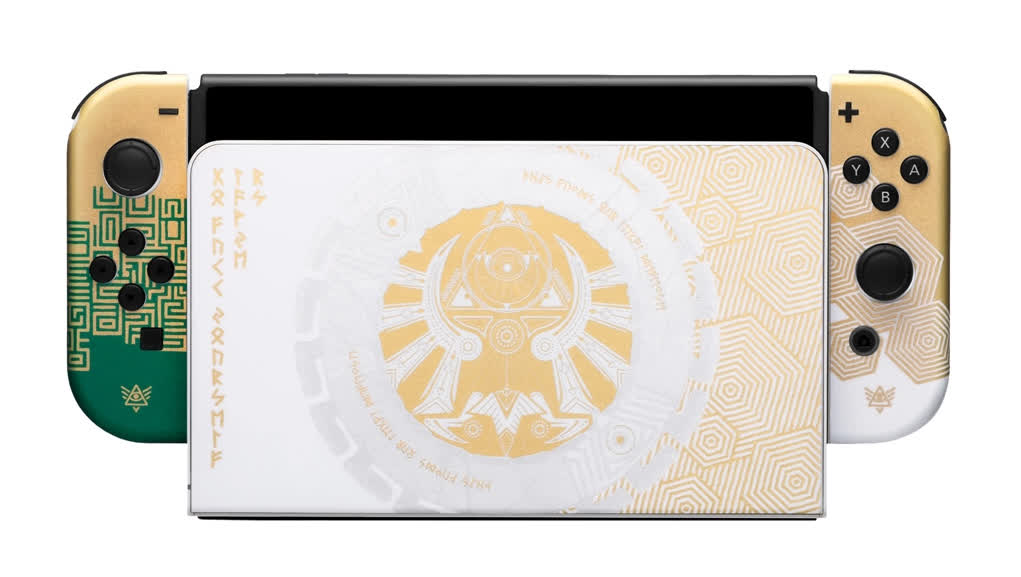 Dbrand's Clone of the Kingdom set is comprised of left and right Joy-Con stickers, skins for the Switch (or Steam Deck) console and Dock, and a microfiber cloth for $49.95. While it's not affiliated with Zelda: Tears of the Kingdom, Dbrand makes it clear that the resemblance isn't accidental, as noted by the website's description heading: "The Power of Plagiarism."
Dbrand calls out Nintendo over its recently released $359.99 limited edition Tears of the Kingdom Switch. "Only dbrand is up to the challenge of charging you slightly less for a 'creative reinterpretation' of their overpriced novelty console," the company writes. "If a dollar saved is a dollar earned, Clone of the Kingdom is the easiest $310.04 you've ever made."
The decal set alone is likely to see Nintendo launch legal action, but it appears that Dbrand simply doesn't care. There's code on part of the stickers' design that VGC translated as "G fu*k (no asterisk) yourself lawyers." There's more code around the logo that reads, "This funds our legal defense."
Dbrand certainly isn't new to this sort of thing. In February 2021, it made black PS5 faceplates that gave the console a look closer to its predecessors. Dbrand even taunted Sony by telling the company to "go ahead, sue us," which it threatened to do a few months later. Dbrand said at the time that it had elected to submit to the "terrorists' demands," adding "fu*k you and especially fu*k Sony."
Dbrand's other response to Sony's cease-and-desist letter came a week later in the form of a new design for its faceplates that differentiates them from the PS5. "Checkmate, lawyers," was the message on this occasion. It'll be interesting to see if Dbrand's forced to do the same with the Switch/Steam Deck's Clone of the Kingdom decals once Nintendo's legal team takes notice, which it almost certainly will.
Some of Nintendo's previous legal actions include suing ROM site owners, killing a Super Mario 64 PC port, a DMCA takedown for game creation tool 'Pokemon Essentials,' and suing TikTok/Twitch star Pokeprincxss. And let's not forget how it wanted to send a message with the lengthy sentence of hacker Gary Bower, who was recently released from prison early.
https://www.techspot.com/news/98691-dbrand-message-sony-over-zelda-clone-decals-go.html