In brief: Much to the chagrin of millions of subscribers, Netflix's new password-sharing block seems to have had its intended effect. The measure, designed to prevent viewers from sharing their accounts with people outside their homes, has given the streaming service its largest spike in new subscriptions in four years.
According to a third-party tracker, Netflix gained more new subscribers in the four days immediately following the start of its password-sharing crackdown in the US than in any similar period since 2019. The numbers will likely signal to the company that it made the right decision and could convince competing streaming services to follow suit.
Before the new policy, potentially a third of Netflix subscribers in the US shared their password with someone outside their homes. On May 23, the company started sending emails to users confirming that account moochers would have to pay an additional fee to continue watching Netflix.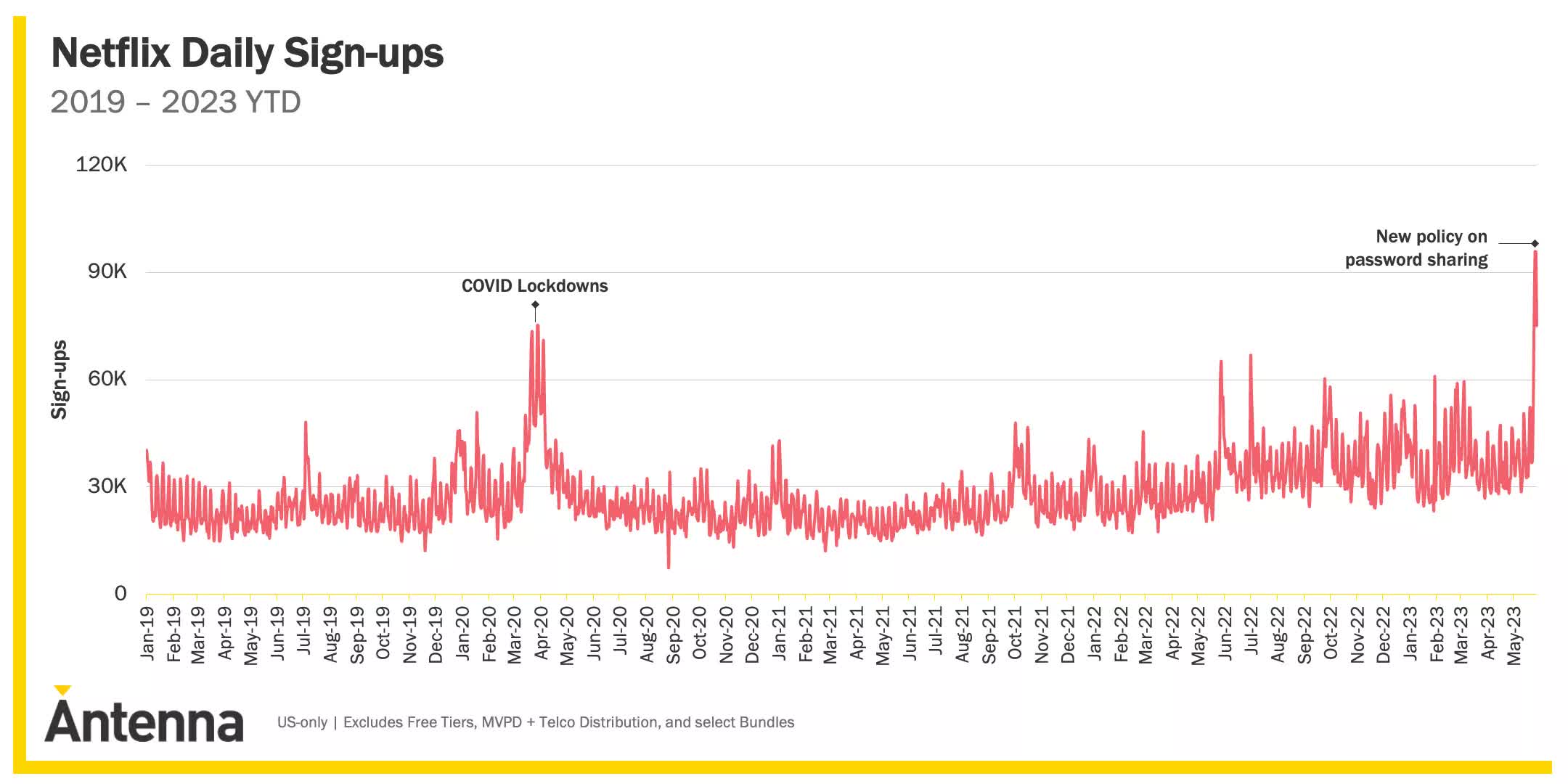 Netflix tracks each subscriber's main household account behavior, device IDs, and IP addresses. Adding a new user who doesn't share the account holder's IP address now costs $7.99 a month in the US and £4.99 in the UK. Subscribers to the service's premium 4K tier can add two extra users.
Moreover, Netflix now requires users to log in from their homes once a month. To stream while traveling, the company advises account holders to log in from home immediately before leaving. There doesn't seem to be a way to keep watching Netflix after being away from home for more than 31 days.
Data from streaming analytics company Antenna shows an average of around 73,000 new daily subscriptions in the US between May 25 and May 28, a larger spike than any since the company's records began in 2019. A surge in cancellations also followed the crackdown, but the increase in signups significantly outweighed it. Netflix's stock price jumped by around 10 percent during the period and has since climbed significantly. The only other massive subscription spike Antenna recorded was between May and April 2020, soon after the pandemic lockdowns started.
Antenna tracks users who pay for accounts through channels like services' web pages, mobile apps, and set-top boxes. The company doesn't count free trials, complimentary hotel access, subscriptions paid by corporations, or subscribers in US territories. It uses an alternative methodology to estimate the number of subscribers who receive access through mobile phone plans.
https://www.techspot.com/news/99017-netflix-sees-massive-subscriber-jump-after-password-sharing.html