Everything You Need To Know About 4G Wireless Technology
Page 2 :

The 'Real' 4G, Products and Availability By
TechSpot is celebrating its 25th anniversary. TechSpot means tech analysis and advice
you can trust
.
When you buy through our links, we may earn a commission.
Learn more
.
The 'Real' 4G, Products and Availability
The 'Real' 4G Still a Long Ways Off?
Like we mentioned before, neither WiMAX nor LTE are truly considered a 4G technology by the International Telecommunications Union. As defined in their International Mobile Telecommunications Advanced (IMT Advanced) family of standards, these technologies must have target peak data rates of approximately 100 Mb/s on high mobility devices like cell phones and approximately 1 Gb/s for stationary devices like a 4G modem at home.
Just like the so-called 2.75G EDGE standard was developed to provide speeds several times faster than 2G data (GPRS) before 3G could be deployed, current implementations of WiMAX and LTE are largely considered a stopgap solution that will offer a considerable boost while WiMAX 2 (based on the 802.16m spec) and LTE Advanced are finalized. Both technologies aim to reach the objectives traced by the ITU, but are still far from being implemented.
In the United States, both T-Mobile and AT&T have moved to UMTS and various flavors of paired HSDPA / HSUPA, while on the CDMA front Sprint Nextel and Verizon Wireless support the EV-DO network. Download speeds vary from carrier to carrier depending on several factors, but on average they are somewhere between 600Kb/s and 1,400Kb/s.
In the case of Sprint, however, they've opted to go the WiMAX route because it was a near-term solution for which the company had enough spectrum to deploy right away. So while the 'real' 4G may still be a long ways off, we'll take all the speed we can get at the moment. Today that's 3-6Mb/s with Clearwire's WiMAX service.
We expect operators to maintain their existing 2G or 3G networks for the foreseeable future, to support voice and narrower-band data while providing ubiquitous coverage. WiMAX and LTE will initially be deployed as an overlay network for fast data transfer rates, with multi-mode handsets (EV-DO / WiMAX or HSPA / LTE, for example) enabling users to get the best of both worlds as operators build out their 4G networks over several years.
Products and Availability
The biggest WiMAX provider in the U.S. is Clearwire, with their Clear service currently available in 30 markets including big cities like Atlanta, Las Vegas, Portland and most recently Houston. By the end of the year the company expects to expand its coverage to 80 major markets, reaching over a hundred million potential customers. Comcast, Sprint, and Time Warner Cable act as wholesale providers selling access to the same underlying WiMAX network as well.
Clear's mobile and residential plans can be purchased by the day or by the month, with several no-contract options available. Home Internet service plans start at $30 per month for unlimited data, while mobile Internet plans start at $40 per month and a combination of the two is available from $55. True road warriors can also sign up for a dual-mode plan, offering the speed of Clearwire's WiMAX network where available and 3G mobile Internet connectivity elsewhere.
Besides from choosing the plan that fits you, new gear is required to access this service. The easiest way to get up and running is with one of several USB dongles, which are available at low prices from Clear itself when signing up to a plan, or separately starting at $50 and all the way up to $225 for WiMAX and 3G coverage with the same device. There is also a range of stationary modems for home or office use, as well as Sprint's Overdrive device, which serves as a portable hotspot for up to five Wi-Fi-enabled devices to hop on Clearwire's WiMAX and 3G networks.
If you want support built inside your laptop, there are an increasing number of options out there with mobile WiMAX technology from Intel available out of the box or as an option. These range from netbooks to business-oriented laptops like the Lenovo ThinkPad Edge, which sells for around $900, and all the way up to luxury desktop replacements.
Sometime during this spring, Sprint is expected to release the first "4G" phone in the U.S. – and it's a monster. Dubbed HTC EVO, this Android-based phone will sport a large 4.3-inch screen, 1Ghz Snapdragon processor, 512MB of RAM, an 8-megapixel flash-equipped camera capable of recording 720p video, a 1.3-megapixel front facing camera for placing video calls, and offer tethering of its speedy WiMAX signal to double as a portable hotspot. Of course, this will be a dual-mode smartphone, so outside of WiMAX areas the EVO will fall back to Sprint's EV-DO Rev. A network.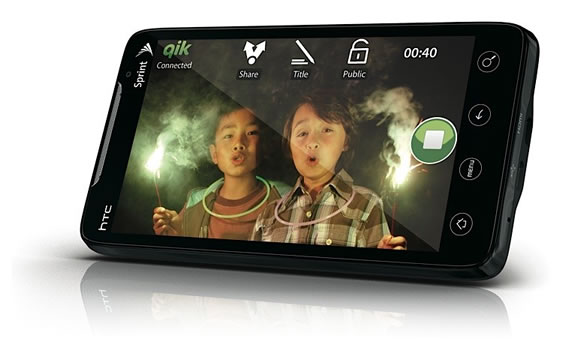 On the other side of the fence, Verizon is expected to launch its LTE network in 25 to 30 markets before the end of the year. There's not much we can tell in the way of pricing or product details yet, but we know the carrier doesn't plan to launch its first LTE-based cell phone until mid-2011. Meanwhile, MetroPCS is also getting ready to roll out its LTE network in "various metropolitan U.S. markets" this year and is partnering with Samsung for the first compatible phone.