TechSpot is celebrating its 25th anniversary. TechSpot means tech analysis and advice
you can trust
.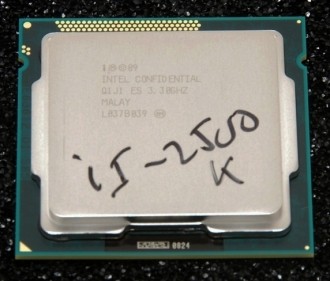 Update: The engineers who were arrested did not work for Intel, as the story originally suggested.
Taiwan's Criminal Investigation Bureau (CIB) has arrested four engineers for allegedly selling sample Intel processors on eBay. The suspects, who were confirmed to be engineers at an OEM plant in Taiwan, were taken into custody in the city of Taoyuan.
According to reports, detectives had been tracking the suspects since September and conducted a raid on the individual's homes last month. Authorities seized 178 sample CPUs with an estimated street value of $82,500. The suspects have admitted to selling more than 500 ES-branded chips since 2009.
Engineering sample CPUs, typically designated by Intel Confidential and ES markings are considered beta versions that are used for in-house testing, compatibility qualification, used as demonstrations or sent to media outlets for evaluation purposes. These processors are often times sent out to various outlets ahead of commercial releases with those on the receiving end having to sign non-disclosure agreements and either return the chip or agree not to sell it after initial testing.
Sample processors usually represent what will eventually come to market but there are some rare exceptions. Furthermore these chips aren't quite as desirable as they once were. Engineering samples of earlier Intel chips like the Pentium 4 were highly sought after because they featured an unlocked multiplier which made overclocking much easier.
The CIB is urging potential buyers to steer clear of ES processors on eBay and further reminding engineers and those with connections to avoid running similar schemes as they could face up to five years in prison.