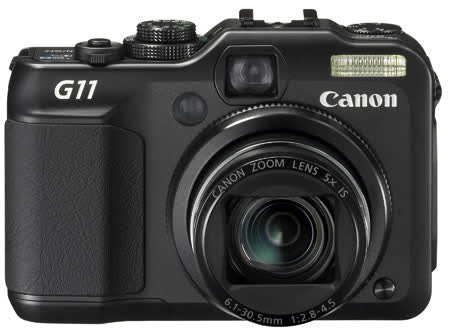 TechSpot Metascore
Based on
49

expert reviews
Excellent:

23

Good:

21

Average:

5

Bad:

0
Pros:
Solid build; quality images; unique features
Dial modes for ISO and Exposure Compensation, Very good reproduction of color, Contrast and sharpness, Superb ease of use, Excellent build
Nice design, Above average low light performance, Very good image quality, Swiveling LCD
Cons:
No HD video; optical viewfinder
Grid view for the scene mode would have been preferable, Review button is not placed at the best of places
TechSpot is supported by its audience. When you buy through our links, we may earn a commission.
Learn more
.
Solid build; quality images; unique features
Dial modes for ISO and Exposure Compensation, Very good reproduction of color, Contrast and sharpness, Superb ease of use, Excellent build
Nice design, Above average low light performance, Very good image quality, Swiveling LCD
Flexible and versatile. Loads of controls within easy reach Sturdy build. Clear, tilt-and-rotate screen
Very nice design; great flip-out LCD screen; very good image quality; very good low light performance
Umer compact camera Sensor: 10-megapixels, 1/1.7in type CCD (3,648 x 2,736-pixels) Lens: 5x optical zoom (28-140mm 35mm film equivalent) ISO range: 80-3,200 Exposure modes: Auto, Scene, Program, Shutter priority, Aperture priority, Manual, Low Light, Q
Very good picture quality, Wide-angle 5x zoom, Quality adjustable LCD screen, Optical image stabilization
Optical viewfinder; articulated LCD; very good photo quality for its class
Very good all-round image quality (albeit without the G10's excellent low ISO resolution), Generally good high-ISO performance for a compact camera, surprisingly good high ISO raw output, Flexible lens range with effective image stabilization, Very li
Canon recognizes that more pixels doesn't necessarily mean better image quality; fast to focus and operate; PowerShot G-series camera design is a classic of simplicity and functionality; vari-angle LCD is back!
Very good photo quality, About a full stop advantage over most of the competition in low light, Nice 5X zoom lens with 28 140 mm range (though a faster aperture range would've been nice), Optical image stabilization, Well built, rangefinderstyle body
Swivel screen for easy shooting from odd angles, Very solid construction, Good grip, ISO and EV Compensation are on mechanical dials, easy to see and use, but stiff enough that they don't change accidentally, Good wide-angle lens, Excellent Optical Im
Flexible LCD; impressive build; good picture quality; snappy performance; plenty of customization options
Excellent image quality, Good AF and shutter performance, Excellent ISO performance, RAW shooting option
Excellent build quality, Everything you need from a DSLR, Lovely colour reproduction, Great noise performance
Timeless design, excellent image quality, variangle LCD one of the best of its type
No HD video; optical viewfinder
Grid view for the scene mode would have been preferable, Review button is not placed at the best of places
Lost some nice features from the G10, Rear buttons too easy to accidentally push
Barrel distortion at the wide end of the zoom. Not as compact as most compacts. No HD video
Rear buttons too easy to accidentally push; lost some nice features from the G10
ISO performance isn't great; no HD video recording; pricey
Expensive, Slow at only 1.1 fps, Distorted viewfinder, No HD video
Shot-to-shot performance still a little sluggish; no HD video
Rather slow lens (in terms of aperture) by traditional G series standards, Movies limited to VGA resolution, High ISO images lose saturation and detail (and offer no control over noise reduction), Focus prone to hunting (and focus failure) in low light at
Wish they had put a bigger sized chip in the G11 to improve low-light shooting further; no HD video mode
Some useful features from the G10 are gone: remote capture, Auto ISO Shift, voice recording, Continuous shooting mode won't win any awards for speed, Movie mode is just VGA, with no use of optical zoom, Ergonomics aren't great: cluttered buttons o
Design is a little bulky, Body is not sealed, Zoom is slow to start, Some buttons are too easily pressed when shooting in vertical mode, Inaccurate optical viewfinder, The LCD image is a little more vibrant than what you'll see on a color-corrected mo
Scroll wheel can be difficult to operate at times; no HD video recording; slightly bulky design may not appeal to some users
Slow burst shooting – just 1.1fps at full res, No HD movies or zooming when filming, Noise better than G10, but beaten by M4/3, Older G10 delivers more detail at 80 ISO
Inaccurate viewfinder, Large, heavy compared to most compacts, Expensive
Wheel isn't very responsive, Playback to shooting is hit and miss, Portraits are overly warm
Viewfinder too small, crowded backplate, soft shutter release