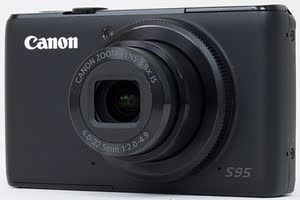 TechSpot Metascore
Based on
48

expert reviews
Excellent:

21

Good:

24

Average:

2

Bad:

1
Pros:
Excellent image quality for its class, Customizable front control wheel, Good low light performance, Full manual controls, Good build quality, 720p HD video with stereo sound
Very good image quality, Slim and lightweight exterior, Easy to use, excellent smart flash feature.
Compact, pocketable size, Control ring provides fast access to settings, Very good image and video quality, Easiest advanced camera to grasp for beginners, Fun scene modes for both stills and video.
Cons:
Average battery life, No optical zoom during video recording
Below average battery life, Lacks ND filter, Poor video functionality
TechSpot is supported by its audience. When you buy through our links, we may earn a commission.
Learn more
.
Excellent image quality for its class, Customizable front control wheel, Good low light performance, Full manual controls, Good build quality, 720p HD video with stereo sound
Very good image quality, Slim and lightweight exterior, Easy to use, excellent smart flash feature
Compact, pocketable size, Control ring provides fast access to settings, Very good image and video quality, Easiest advanced camera to grasp for beginners, Fun scene modes for both stills and video
Full manual controls, excellent sharpness and tone, HD video
Works great in low-light conditions; great for shooting pictures and videos
Image and Video quality, Hybrid IS system, Ring function, Large display, HD video recording, Lightweight, -
Manual controls, Very good images in all light levels, Shoots 720p HD video, Big, sharp LCD display
Pocketable body with great controls and customisation, 3.8x zoom with bright f2.0 aperture at 28mm, Great quality 3in / 460k screen, Full manual control, RAW files and 720p HD movies
Excellent image quality. Tiny. HD movie mode
No-nonsense design is easily pocketed, Bright, optically stabilized wide-angle zoom with very good image quality, New Hybrid IS system corrects for both lateral shifts and angular motion, Programmable control ring, Shortcut button works great to quickl
Very good photo quality, with a full stop advantage over typical compact cameras at high sensitivities, Fast F2.04.9, 28 105 mm zoom lens, New and improved "hybrid" optical image stabilization, High resolution 3inch LCD with outstanding outdoor and low li
Great manual controls, Excellent stabilisation in low light, Very good noise suppression, Tonal correction, HDR mode
Attractive and well-designed; capable of producing very nice photos; complete set of manual controls; solid 720p video
Excellent low-light shooter, Better than usual Canon point-and-shoot photos, Extensive photo adjustments via control dials, Excellent LCD screen
This camera gives you plenty of manual control
Average battery life, No optical zoom during video recording
Below average battery life, Lacks ND filter, Poor video functionality
Disappointing battery life, No raised hand grip, Slow burst mode
Control dial responsiveness, price, occasional cast on white balance
No internal memory; pricey
Price, No optical viewfinder, Stiff Mode dial
Slow camera speed, Short battery life, Optical zoom doesn't work with video
Slow continuous shooting at full resolution, Can't optically zoom while filming, Panasonic Lumix LX5 better-featured, Quality beaten by mirror-less 'EVIL' compacts
Not cheap. Frustrating thumbwheel. Over-sharp JPGs
Generally sluggish performance overall, No noise reduction options, High geometric distortion at wide-angle in uncorrected RAWs, Moderate chromatic aberration at wide-angle, Optical zoom not supported during movies, Lens doesn't go as wide as some of
Redeye a problem; some highlight clipping, Videos are a bit choppy due to 24 fps frame rate; optical zoom cannot be used while recording a movie, Ergonomic annoyances: ring function / power buttons easy to confuse, small zoom controller / shutter release
JPEG image quality disappoints, Handling is a little slippy, Overpriced by some margin
On the slow side, with subpar battery life; no low-compression JPEG option
Button placement takes getting used to, Slow fps; not a camera for action shooters, Low battery life
The battery life is short