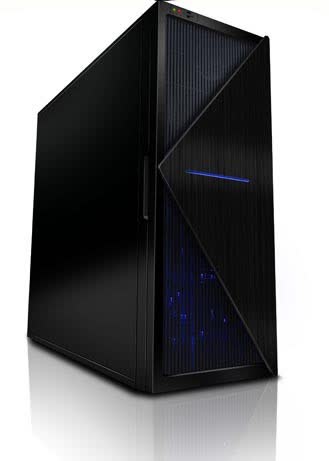 Pros:
Silent operation, Plenty of room for expansion, Lots of cooling out of the box, Sleek design
Large, spacious case, 7 External drive bays and 9 internal HDD bays, Room for large expansion cards and EATX motherboards, Foam lined side panel, rubber HDD mounts, and PSU gasket help reduce noise, Four quiet case fans included (additional intake fa
Well made, Easy access to drives, Decent cooling, Places to route cables, Lots of room inside
Cons:
Weight – it's very heavy, Front door seems fragile.
Limited airflow in upper section (adding optional front intake fan will help), Requires a PSU with extra long cables
TechSpot is supported by its audience. When you buy through our links, we may earn a commission.
Learn more
.
Silent operation, Plenty of room for expansion, Lots of cooling out of the box, Sleek design
Large, spacious case, 7 External drive bays and 9 internal HDD bays, Room for large expansion cards and EATX motherboards, Foam lined side panel, rubber HDD mounts, and PSU gasket help reduce noise, Four quiet case fans included (additional intake fa
Well made, Easy access to drives, Decent cooling, Places to route cables, Lots of room inside
Very good noise-dampening capabilities; tons of expansion room
Clean looking exterior, Reduces (but doesn't eliminate) computer noise, Comes with noise absorption material and quality fans, Front panel easily accessible, Large number of drive bays
Heavy duty construction, Aluminum plate on door, Sound dampening included, Plenty of space for external drives and many hard drives, Space for eATX boards, Nice lighting, Compartment design of the interior, All four fans included, Power & Reset buttons ca
Silent, Extended ATX Support, Huge drive support, Simple and spacious design
Very quiet operation, Insulating foam on side panels, Attractive design, Plenty of hard drive bays, Accommodates E-ATX motherboards and long video cards, Front e-SATA port, Tool-less retainer
Quiet (noise dampening material), Full Tower (Large), Dual Chamber Internal Chassis, Bottom Mounted PSU, 7 x 5.25" bays, 5.25" 3.5" adapter, Well Constructed, Cable Management
Sturdy-steel
Sturdy design, Sound dampening material through out the interior of case, Cable management was made easy even when using a PSU with extra long wires, Having a separated upper motherboard area and the lower PSU area
Weight – it's very heavy, Front door seems fragile
Limited airflow in upper section (adding optional front intake fan will help), Requires a PSU with extra long cables
Door broke, Very heavy
Does not run completely silently; case size and layout may cause some trouble for cable routing; power button easy to hit accidentally
Heavy
Louder than it claims, No window, Not very good for Cooling
Pricey, Noisy fans negate the sound dampening feature, Bland interior server roots obvious, Many PSUs require extension cables due to case layout not included, Mainboard compartment quite compact for the case size, Screwless system does not hold too well
Cooling performance, Only full length devices can be installed in external bays (ie, no fan controllers, etc), Shallow door clearance, Limited cable management options, No firewire port, IO Panel locking mechanism
Air Flow Somewhat Restricted, Internal Chassis Finish Seemed Too Thin, Lack of PSU Extensions For Cables
Not enough room near the upper area of the case, Not having enough fans on the motherboard area (intake) will make controlling temperatures difficult, Sound dampening material can and will act like an insulator during times of high ambient temperatures