AMD ATI Radeon HD 7770 GHz Edition 1GB PCIe
The AMD ATI Radeon HD 7770 measures 21cm (8.2in) long, the GPU core runs at 1GHz, it comes loaded with a 1GB frame buffer, the Radeon HD 7770 also carries 640 SPUs, 40 TAUs and 16 ROPs. The HD 7770 operates at near silence because even under load it only draws 80 watts and as little as 3 watts at idle, courtesy of the ZeroCore Power technology. Last but not least, AMD has included a single 6-pin PCI Express power connector.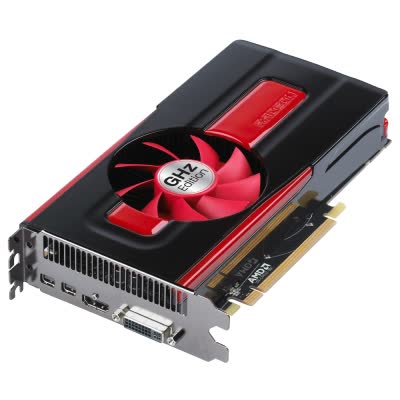 TechSpot is supported by its audience. When you buy through our links, we may earn a commission.
Learn more
.
Energy efficient
Good performance at mainstream resolutions in current games
Only needs one six-pin power connector
Support for 4K video and other forward-looking features
Decent performance
Small enough to fit almost any case
Double wide card not suitable for everyone
Doesn't outpace similarly priced Radeon HD 6850 on all tests
4K video content and screens likely won't be common for a year or more
Price too high to be competitive
Less expensive cards perform similarly
Blocks a second expansion slot
Requires one power supply connector