MSI Radeon HD 5870 R5870 Lightning 1GB GDDR5 PCIe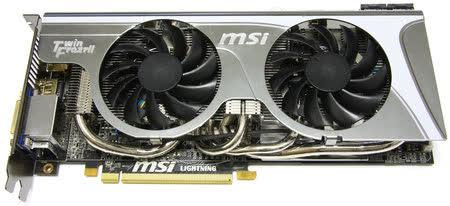 Pros:
Factory overclocked with warranty support; custom cooling solution.
Excellent cooler, Silent fans, HDMI cable included, High-quality components used
Engineered for extreme overclocking, Software voltage control via Afterburner, Good overclocking potential, DirectX 11 support, Dual 8pin power connectors, Native HDMI output, Voltage monitoring support, GDDR5 memory, HDMI cable included, Support for AMD.
Cons:
Pricier than the competition; limited success in actually overclocking.
A slightly overclocked core is completely pointless
TechSpot is supported by its audience. When you buy through our links, we may earn a commission.
Learn more
.
Factory overclocked with warranty support; custom cooling solution
Excellent cooler, Silent fans, HDMI cable included, High-quality components used
Engineered for extreme overclocking, Software voltage control via Afterburner, Good overclocking potential, DirectX 11 support, Dual 8pin power connectors, Native HDMI output, Voltage monitoring support, GDDR5 memory, HDMI cable included, Support for AMD
Loads of highend features, Effective cooler, Impressive overclocking performance
Pricier than the competition; limited success in actually overclocking
A slightly overclocked core is completely pointless
Extremely noisy cooler, Overclock out of the box is rather slim, Slightly higher power consumption than reference design, GPU mounting mechanism doesn't seem to be ideally designed, DirectX 11 won't be relevant for quite a while, No support for CU
Memory overclocking is poor, Stock clock speeds are a tad conservative