Toshiba Satellite M645 - Intel Core i5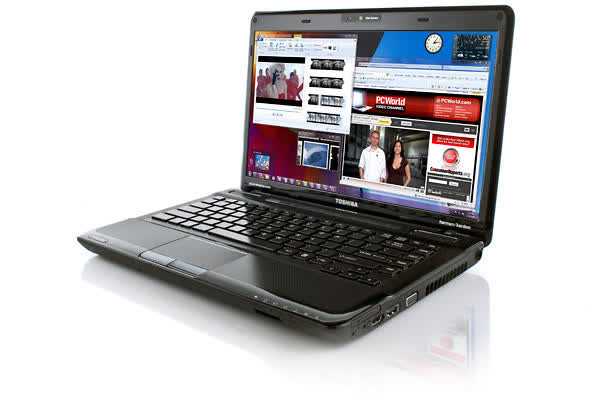 Pros:
Powerful second-generation Intel Core i5 processor, Backlit keyboard, Harman/Kardon speakers with Dolby Advanced Audio, Blu-ray player, Speedy USB 3,0 port and wireless Bluetooth 3,0 connection.
Decent gaming frame rates, Good everyday performer.
Blu-ray drive; Nvidia optimus graphics; fast processor; great speakers.
Cons:
Four-hour battery life is short for a mainstream laptop, Dated design.
Anooyingly bright power button light, Only 10/100 ethernet.
TechSpot is supported by its audience. When you buy through our links, we may earn a commission.
Learn more
.
Powerful second-generation Intel Core i5 processor, Backlit keyboard, Harman/Kardon speakers with Dolby Advanced Audio, Blu-ray player, Speedy USB 3,0 port and wireless Bluetooth 3,0 connection
Decent gaming frame rates, Good everyday performer
Blu-ray drive; Nvidia optimus graphics; fast processor; great speakers
Strong application performance. USB 3.0 port included. Nice-sounding Harman Kardon speakers
Outstanding audio; strong productivity and graphics performance; Blu-ray drive; USB 3.0 port
Powerful Core i5 processor. 6GB of DDR3 memory. Switchable graphics with great Nvidia chip. Excellent typing experience. Backlit keyboard
Good overall performance, Very good frame rates in games
Very good application, graphics performance; high-quality speakers; backlit keyboard; HDMI, eSATA ports
Attractive design, Excellent performance, Great keyboard
Stylish textured design, Best-in-class sound quality, Strong graphics scores, Good keyboard and touchpad, Cool temperatures
Four-hour battery life is short for a mainstream laptop, Dated design
Anooyingly bright power button light, Only 10/100 ethernet
Thick plastic chassis; bad battery life
Unimpressive battery life
Chunky; cramped keyboard; stiff mouse buttons
Pricier than similar laptops. Battery is too small. Processor not running at full strength, especially off the AC. Heat is bothersome when running intensive tasks
Branding apps need trimming, Keyboard backlighting lacks a dimmer
Reflective screen; mushy keyboard
Weak screen protection, A little expensive as configured
Relatively short battery life, A bit pricey, Murky webcam images