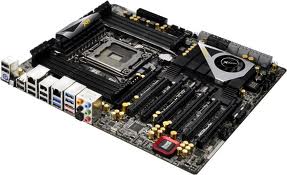 TechSpot Metascore
Based on
5

expert reviews
Excellent:

5

Good:

0

Average:

0

Bad:

0
Pros:
Excellent performance efficiency, both at stock, and when overclocked, Very respectable power consumption figures, Nicely optimized and truly informative and useful BIOS and software package, Fantastic audio rendering, thanks to superb circuit design and a great CODEC, Included LSI RAID controller, bringing SATA drive support up to 14 devices!, Support for Quad Sli and Quad Crossfire, with fu...
Full size CEB form factor with a ton of room plus seven PCIE slots and fourteen sata ports.
Cons:
Price (although it is justified, but puts it out range for most people), Weak accessory package
Drive performance with tested hardware is very underwhelming, High price, although I personally feel the price is justified. Unfortunately, not all users need 14 SATA ports and a builtin RAID card, PCH cooler fan is loud, far too loud, and I really do not like it at all, Not enough cables in the box for all internal SATA ports....
TechSpot is supported by its audience. When you buy through our links, we may earn a commission.
Learn more
.
Excellent performance efficiency, both at stock, and when overclocked, Very respectable power consumption figures, Nicely optimized and truly informative and useful BIOS and software package, Fantastic audio rendering, thanks to superb circuit design and a great CODEC, Included LSI RAID controller, bringing SATA drive support up to 14 devices!, Support for Quad Sli and Quad Crossfire, with fu
Full size CEB form factor with a ton of room plus seven PCIE slots and fourteen sata ports
Price (although it is justified, but puts it out range for most people), Weak accessory package
Drive performance with tested hardware is very underwhelming, High price, although I personally feel the price is justified. Unfortunately, not all users need 14 SATA ports and a builtin RAID card, PCH cooler fan is loud, far too loud, and I really do not like it at all, Not enough cables in the box for all internal SATA ports
Overclocking is a bit tougher with this platform