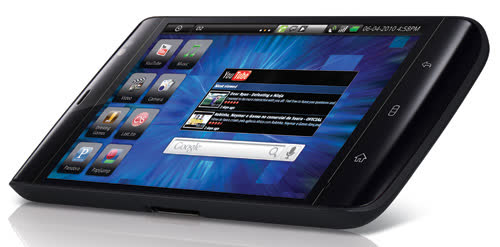 TechSpot Metascore
Based on
57

expert reviews
Excellent:

8

Good:

25

Average:

14

Bad:

10
Pros:
Big screen, 16GB microSD card bundled, Android 2.2, front-facing video-call camera
Design, touchscreen, UI customization, portability, hardware
The Dell Streak offers an unprecedented combination of processor power, screen size, and design quality. Support for 3G, Wi-Fi, and Bluetooth hit all the wireless sweet spots, while photo, camcorder, and calling capabilities blur the boundaries between...
Cons:
Too huge to be comfortably used as a phone, unsatisfactory battery life, phone non-responsive at times, power button too recessed
Camera, price, battery life
TechSpot is supported by its audience. When you buy through our links, we may earn a commission.
Learn more
.
Big screen, 16GB microSD card bundled, Android 2.2, front-facing video-call camera
Design, touchscreen, UI customization, portability, hardware
The Dell Streak offers an unprecedented combination of processor power, screen size, and design quality. Support for 3G, Wi-Fi, and Bluetooth hit all the wireless sweet spots, while photo, camcorder, and calling capabilities blur the boundaries between
New widgets and user-friendly setup with Dell's Stage UI, Google Navigation, camera produces clear snaps, Swype keyboard for faster, fluid typing
Large screen for web browsing, video, etc, Excellent performance
Streamlined & clean look, Solid construction, Produces nice looking outdoor photos, Great Battery Life
Elegant hardware, pocketable, good price with contract
Good looking device, Camera image quality is quite good, Music player is quite decent, 16GB of internal memory
Great Multimedia Performance, Rich Display, Sleek, Sexy Looks, Powerful Battery, Telephony
Large 5in touchscreen; good web browser; decent battery life
Large 5-inch screen for easy reading, feels rugged, powerful specifications
Large screen for web browsing, video, etc, Excellent performance
Slim Design, Build Quality, Excellent Display, Ease of Use, Access to Android Market
Clever camera controls; excellent as nav device; iTunesfree music control; Open app platform
Gorgeous 5-inch display, Intuitive, customizable interface, Front-facing camera for video calls, Bundled syncing software, HDMI dock and car dock options
Slim and well-built. 5-inch screen is roomy. Fast processor
Sleek, slim design fits right into the pocket or a tiny purse. Simple UI makes for an easypeasy experience
Large screen, Responsive touch sensitive buttons, Feels sturdy, Top keyboard
Excellent navigation and internet features, great touch-screen and keyboard, five-inch screen is a pleasure to use for movies, internet and navigation
Stunning display. Responsive touchscreen. Fluent multi-touch pinch-to-zoom. Great web browsing. Speedy processor
Too huge to be comfortably used as a phone, unsatisfactory battery life, phone non-responsive at times, power button too recessed
Camera, price, battery life
Battery life isn't great, the touch-screen keyboard is awkward, music quality is below average, and the position of the camera tends to cloud photos and video
No smart dialling, slight lag in touch-screen, five-inch screen makes it too big as a phone but a touch too small as a tabletLook and Feel
No Flash 10.1 support, Bland looking photos, Abysmal calling quality
The AT&T version is still on Android 1.6 (soon to be updated to Froyo). The Unlocked version is available with Android 2.2 Froyo
On-Screen keypad could have been better designed, Volume on calls was a little low, Battery life could have been better, Comes with Android 1.6
Screen Too Small for a Tablet, Overhauled Android UI Takes Time to get Used To, Touch is unresponsive at times, Expensive
Outdated Android 1.6 OS; no Flash support; VGA video recording; limited video codec support
Android 1.6, cumbersome as a phone, poor on-screen keyboard
Barely pocketable, Not great for voice calls, Outofdate OS (but that's going to change)
Outdated Android 1.6 OS, Uncomfortable to Carry in Pocket, Sunlight Legibility
Small screen size; Too big to be a smartphone; Clunky UI; limited orientation; Ancient Android version
Runs older Android OS 1.6, Sluggish at times, Doesn't record 720p video, Problems playing certain video files
Too big to hold in one hand easily. Buggy software. Old version of Android
Shutter lag makes photography difficult, Android 1.6 OS is so last year. No Flash or tethering
Awakward to use as phone, Only Android 1.6, Very sluggish, No flash support
Too large for many pockets and even feels unwieldy in portrait orientation, no native video calling, requires some technical knowhow to get the most out of its features. Look and Feel
Too big to be your main phone. Android 1.6 OS needs upgrading. Weak dual-LED flash. Average music player