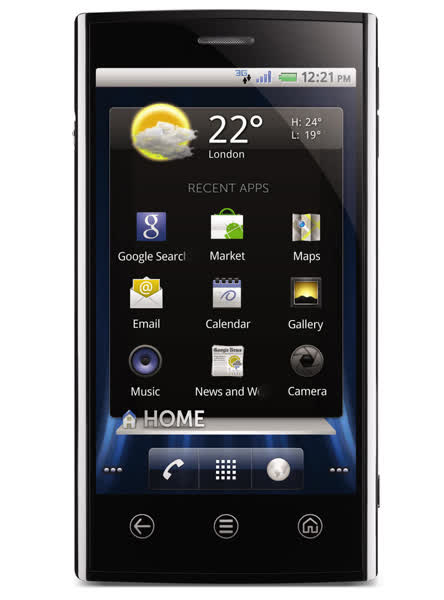 Pros:
Gorgeous looking handset, Mesmerizing AMOLED display, Reasonably priced at $99.99
Attractive design; Solid build; Good camera; Powerful loudspeaker; Convenient Silent mode switch.
Touchscreen, HD video playback, web surfing.
Cons:
Stutters with Flash content, Shoots ugly looking 720p videos, LED flash is nearly worthless.
Last generation hardware and software; Power button inconveniently placed; No DivX/Xvid playback; No HDMI-out; No video call camera; Dell Stage is sluggish; Low volume in headphones; Camera lens gets easily covered.
TechSpot is supported by its audience. When you buy through our links, we may earn a commission.
Learn more
.
Gorgeous looking handset, Mesmerizing AMOLED display, Reasonably priced at $99.99
Attractive design; Solid build; Good camera; Powerful loudspeaker; Convenient Silent mode switch
Touchscreen, HD video playback, web surfing
Responsive
The Dell Venue has an attractive, solid design with a large 4.1-inch touch screen. The Android 2.2 smartphone also features a 1GHz Snapdragon processor for smooth performance and comes with a number of extra apps
Decent battery life, Camera quality was not bad at all
Spruced Up UI, Browser Supports Flash
Stutters with Flash content, Shoots ugly looking 720p videos, LED flash is nearly worthless
Last generation hardware and software; Power button inconveniently placed; No DivX/Xvid playback; No HDMI-out; No video call camera; Dell Stage is sluggish; Low volume in headphones; Camera lens gets easily covered
Heavy. Some reception issues. A little buggy
The camera quality was subpar, Dell's Stage user interface could use some refinement and won't appeal to everyone, and the Venue doesn't support T-Mobile's HSPA+ network
No FM
Can't charge a drained battery from wall socket, Backup utility not reliable