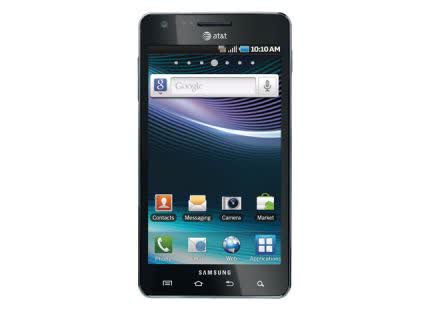 Pros:
Large, colorful screen, Thin and light despite large size, Good camera, Good call quality, Long battery life.
FormFunctionFun. Oversized touchscreen is great for flicks. Fantastic battery life regardless of use patterns. Preternaturally light at 4.5 ounces. Ships with a $25 voucher for movie rentals. Great photos (8MP) decent video (720p).
Large, beautiful Super AMOLED Plus screen, Excellent battery life, Ample memory and expansion capability.
Cons:
Slow 4G data speeds, Outdated processor
Speaker is fine for calls, anemic for movies. Plastic chassis and volume rocker are pure chintz. Getting video onto a TV is donglereliant. All this downloadable video sweetness ships with a tiny 2GB card.
TechSpot is supported by its audience. When you buy through our links, we may earn a commission.
Learn more
.
Large, colorful screen, Thin and light despite large size, Good camera, Good call quality, Long battery life
FormFunctionFun. Oversized touchscreen is great for flicks. Fantastic battery life regardless of use patterns. Preternaturally light at 4.5 ounces. Ships with a $25 voucher for movie rentals. Great photos (8MP) decent video (720p)
Large, beautiful Super AMOLED Plus screen, Excellent battery life, Ample memory and expansion capability
Very thin. Huge, vibrant Super AMOLED Plus screen. Stellar battery life. First truly 4G AT&T phone
Excellent display, free $25 Media Hub movie credit with purchase, lightweight and super thin body, large onscreen keyboard is great for bigger fingers, good performance
Supersized & beautiful Super AMOLED Plus display, Razor thin construction, Peppy performance
Thin profile, Excellent battery life, Beautiful screen
The Samsung Infuse 4G features a large and vibrant 4.5-inch touch screen that's great for browsing and videos. The Android smartphone is ultrathin and has an 8-megapixel camera and snappy performance
Classleading and immense display, slim and light, good HSPA speeds where available
Exceptional multimedia capabilities, Nice, big screen for easy typing
Supersized & beautiful Super AMOLED Plus display, Razor thin construction, Peppy performance
Slow 4G data speeds, Outdated processor
Speaker is fine for calls, anemic for movies. Plastic chassis and volume rocker are pure chintz. Getting video onto a TV is donglereliant. All this downloadable video sweetness ships with a tiny 2GB card
Large design not for everyone, HDMI implementation can be troublesome
AT&T doesn't yet have a network to back up the phone's speeds. Not the best voice phone. Tall and wide dimensions make it tough to hold
Large display and sheer size of the device will be too large for some, We want Gingerbread!
Slow "4G" data speeds, Unable to handle sites with heavy Flash content
Inconsistent data performance, That screen might be a little too big, External HDMI adapter
The lower-resolution screen makes text look a bit pixelated. AT&T's 4G data speeds are slow
Reception is average
Photos sometimes have a red tint, Text and images are jagged
Slow "4G" data speeds, Unable to handle sites with heavy Flash content