T-Mobile BlackBerry 9700 Bold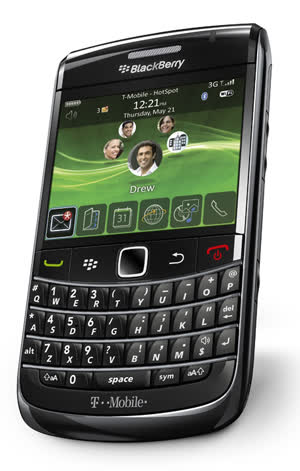 TechSpot Metascore
Based on
56

expert reviews
Excellent:

26

Good:

27

Average:

1

Bad:

2
Pros:
Superior Keyboard, 3G, GPS & WiFi Support, DivX/XviD Support, Excellent EMail Services, Simple to Use UI, Optical Trackpad, Classy Looks, Very Good Battery Life
Good build, compact, lightweight, sharp screen, optical trackpad, 3.5mm jack, 3MP AF camera, smoother OS, talktime, DivX & XviD support
Super fast OS, Plenty of media support, Excellent audio quality, Good camera, Good Battery Life
Cons:
Expensive, App Store Doesn't Offer Enough, Depends on Blackberry Service Too Much
No FM tuner, last row of keys smaller, missing accelerometer & compass, need to purchase document editor
TechSpot is supported by its audience. When you buy through our links, we may earn a commission.
Learn more
.
Superior Keyboard, 3G, GPS & WiFi Support, DivX/XviD Support, Excellent EMail Services, Simple to Use UI, Optical Trackpad, Classy Looks, Very Good Battery Life
Good build, compact, lightweight, sharp screen, optical trackpad, 3.5mm jack, 3MP AF camera, smoother OS, talktime, DivX & XviD support
Super fast OS, Plenty of media support, Excellent audio quality, Good camera, Good Battery Life
Attractive, slimmeddown design, Excellent, ergonomic keyboard
Solid and well made. Compact design. User-friendly and easy-to-set-up push email service. Tactile QWERTY. Vivid display. Integrated 3.5mm headphone jack
Optical trackpad, Solid build quality, Landline-like voice quality, Tack-sharp screen, Longest battery life of all BlackBerrys
Good multimedia features and great messaging experience. UMA WiFi calling is a big plus on TMobile version
Perfect QWERTY keyboard, best email support on the market, super responsive trackpad.
Excellent design, continues the classic trend of the previous Bold, Keypad has improved, with texture to add to the ease of typing, Optical track pad has replaced the trackball, and now supports swipe gestures, 256 mb RAM, and faster processor, Screen
Slimmer looks, UMA calling, Decent battery life
Good multimedia skills, solid call properties, good pocketability and durability
Trackpad a much better input than the trackball, Higherresolution screen, 3G for TMobile users, WiFi calling and visual voicemail (on TMobile/Rogers), Significantly improved camera for still shots, Clear calling on 3G and WiFi, Capable if unspectacular em
Great battery life. Well organized inbox aggregates all incoming messages. UMA calling is very convenient.
Beautiful industrial design, Comfortable keyboard, Wi-Fi calling, Sharp 3.2-MP camera
Excellent form factor. Razor-sharp screen. Wi-Fi calling. Good keyboard. Solid call quality
The RIM BlackBerry Bold 9700 boasts a sleeker design that includes an optical trackpad, a 3.5mm headphone jack, and a brilliant display. The smartphone is 3G capable and offers Wi-Fi with UMA support, Bluetooth, and GPS. It also gets a faster processor
Expensive, App Store Doesn't Offer Enough, Depends on Blackberry Service Too Much
No FM tuner, last row of keys smaller, missing accelerometer & compass, need to purchase document editor
No Maps for GPS, Still no Flash support for browser
Camera is just average, Browser can't compete with other top phones
Average camera and video capture resolution. App Store still a bit threadbare
Keyboard potentially too small for larger fingers, Slow browser
Slow web surfing even with 3G
Limited customisation possible.Look and Feel
Improved camera, with 3.2 megapixels but still on the low side comparitively, Screen is quite small
Unchanged design, Poor signal connection
Trackpad takes getting used to, feels too small to be a Bold
BlackBerry OS 5.0 still at times ungainly, Poor video capture, Internet, GPS and media no longer classleading, App World not as extensive or as easy as iPhone's App Store
Interface still bland, poorly organized. Web browser lags behind competition. Lacks some necessary software, including turn-by-turn GPS navigation.
OS feels a bit stale, Mediocre Web browser
Browser still needs help. Not a big jump up from earlier models
The BlackBerry browser doesn't compare to the competition. The handset's compact size results in a smaller display and keyboard, but they aren't deal-breakers