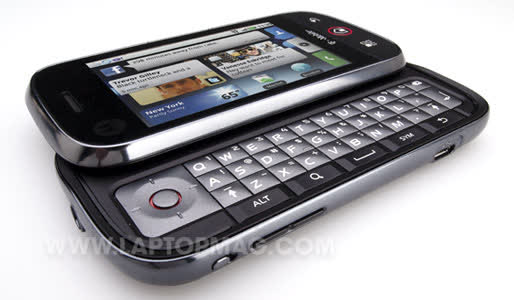 TechSpot Metascore
Based on
47

expert reviews
Excellent:

6

Good:

24

Average:

9

Bad:

8
Pros:
It's got some work ahead of it, but MOTOBLUR isn't bad. We especially like the contact integration, Good camera with useful photo editing software, Display is responsive and movies look great, Good phone performance and battery life
Keyboard based Android OS with some useful extras
Megasocial networking.
Cons:
Build quality leaves a lot to be desired, Keyboard is difficult to use with the concave bottom row, Too expensive for what it is
Some aspects of the Happenings application don't work all that well
TechSpot is supported by its audience. When you buy through our links, we may earn a commission.
Learn more
.
It's got some work ahead of it, but MOTOBLUR isn't bad. We especially like the contact integration, Good camera with useful photo editing software, Display is responsive and movies look great, Good phone performance and battery life
Keyboard based Android OS with some useful extras
Megasocial networking
Google Android OS, MOTOBLUR aggregates social network, texting and e-email accounts, Slide-out horizontal keyboard, 5 MP camera
Easy to set and use MotoBlur widget-based UI. Responsive touchscreen. Finger-friendly onscreen keyboard. Integrated 3.5mm headphone jack. Decent selection of downloadable apps
Keep all your status updates for all your networks and feeds up top. Easy to update multiple networks at once. Great custom widgets for Android.
Tight integration with social networks, Comfortable keyboard, Fast data speeds, Solid 5-MP camera, Robust backup service
Excellent call quality and speakerphone. Near-perfect keyboard. Ground-breaking social networking integration. Cloud-based MotoBlur backs up PIM data. Syncs with Microsoft Exchange
MOTOBLUR brilliantly integrates all your contacts, email and social networks into one easy to view list
Camera takes detailed, noisefree pics. Remote wipe and online backup service great for folks who are prone to losing their phones
Good messaging/social network support, great keyboard, 3G and WiFi data
The Motorola Cliq has a great design with a brilliant display and easy-to-use controls and keyboard. Its feature set is rich and functional, and Motorola made some welcome improvements and user interface tweaks
High-quality design and construction, MotoBlur is an innovative way to stay connected
Build quality leaves a lot to be desired, Keyboard is difficult to use with the concave bottom row, Too expensive for what it is
Some aspects of the Happenings application don't work all that well
Chaotic homescreen, dubious dpad
Heavy and bulky, Message windows obscure screen, No camera flash, 3-line (rather than 4-line) QWERTY keypad, *
Workaday design. Cheapish build quality. Temperamental QWERTY keyboard. Average camera and video recording capabilities. No worthy photographic features
Wobbly hardware design made touchscreen use frustrating. Phone was a bit buggy or unresponsive at times. Battery life poor. Multimedia experience sub-par on Android.
Happenings interface needs work, No multitouch support, Mediocre on-screen keyboard
Heavy. Screen could be a little larger. A little buggy
Despite its HSDPA billing we were left twiddling our thumbs while websites loaded up.Look and Feel
Messy Motorola skin overcomplicates simplistic Android UI. Far too many features that can't be hidden or deleted. Web browser is sucky mcsuck suck
Mediocre camera, minor screen responsiveness issues
The Motorola Cliq lacks a file manager, a camera flash, and some basic organizer features. You can store apps only on the integrated memory, and the memory card slot is stashed behind the battery cover. Call quality wasn't perfect and the handset was
Doesn't ship with newest version of Android OS 1.6, 5-megapixel camera disappoints