Verizon Wireless Touch Pro 2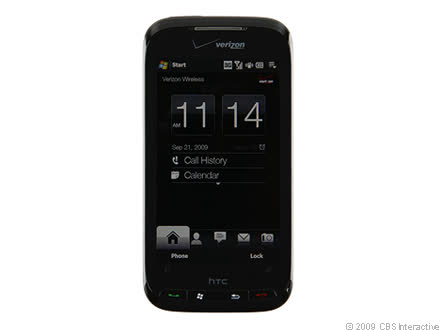 TechSpot Metascore
Based on
50

expert reviews
Excellent:

15

Good:

27

Average:

3

Bad:

5
Pros:
Great keyboard. Solid calling features. HTC's fancy interface hides most of the worst parts of Windows Mobile 6.1. ...
Great keyboard and emailing feature, flip-activated speakerphone, sync to Microsoft Outlook...
Enough screen and keyboard for any application. Classy looks. True world phone.
Cons:
Buggy all over, with performance problems. Multimedia and Web browsing features still not up to par. No clear upgrade path to Windows Mobile 6.5. ...
Slow GPS, Windows Marketplace still in infancy Look and Feel...
TechSpot is supported by its audience. When you buy through our links, we may earn a commission.
Learn more
.
Great keyboard. Solid calling features. HTC's fancy interface hides most of the worst parts of Windows Mobile 6.1.
Great keyboard and emailing feature, flip-activated speakerphone, sync to Microsoft Outlook
Enough screen and keyboard for any application. Classy looks. True world phone
Lowest price Touch Pro2 in the US
The HTC Touch Pro2 for Verizon offers world roaming capabilities as well as Wi-Fi, Bluetooth, GPS, and EV-DO Rev. A support. The smartphone features an extra-large touch screen and one of the best QWERTY keyboards weve seen to date. Verizon will also
Large touchscreen display, Large QWERTY keyboard, Opera Mobile & Other Software
Elegant design, Large, sharp and vibrant screen, The best, most "touch friendly" version of TouchFlo 3D yet, Excellent speakerphone, Nicely designed hardware keyboard will satisfy those for whom only a hardware keyboard will do
Slide out keyboard, Tilting screen, Crisp and clear picture, Reasonable camera quality, Easy to use interface
Keyboard, sizable touch screen, decent UI
Strong call quality, Excellent keyboard, High-resolution display, Straight Talk makes staying in touch easy, Good speakerphone
Sophisticated, minimalist design, Improved TouchFLO interface
Excellent build quality. Large stunning display. Spacious sliding QWERTY keyboard. Sturdy sliding mechanism and tilt hinge. Clear speakerphone for conference calling
Great keyboard, impressive speakerphone, good battery
Awesome keyboard, Touch sensitive screen that delivers great image quality and display can be tilted, Extremely responsive and snappy, Excellent customization pack
Buggy all over, with performance problems. Multimedia and Web browsing features still not up to par. No clear upgrade path to Windows Mobile 6.5.
Slow GPS, Windows Marketplace still in infancy Look and Feel
Huge. Windows Mobile 6.1 is old
Large and heavy
The smartphone is bulky. Callers complained of tinny call quality, and the camera took poor pictures
Windows Mobile 6.1 hinders performance slightly
Very expensive, Large and heavy
No 3.5mm Headphone Jack, No camera flash
Some aspects of Windows 6.1 still need to be there, no LED flash, no FM radio, no 3.5mm audio jack
No 3.5mm headphone jack, Bulky design, Expensive
Camera is just average, Software lags at times
Very bulky and heavy; no dedicated 3.5mm audio connector; slow camera autofocus and no LED; expensive
Bulky and heavy. Sub standard camera. No 3.5mm headphone jack. Expensive
Poor camera, no 3.5mm headphone port, poor stereo Bluetooth audio quality
Screen is unusable in the sun, Mediocre loudspeaker and incall quality, You are bound to see the standard WinMo menus sooner or later, The camera quality is very poor