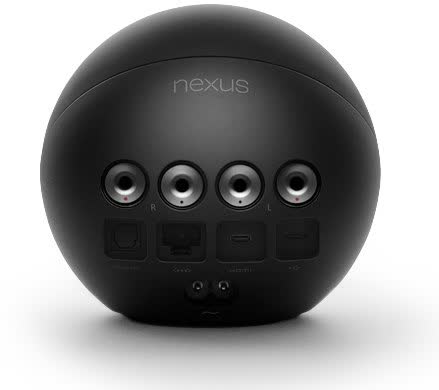 TechSpot Metascore
Based on
7

expert reviews
Excellent:

0

Good:

0

Average:

0

Bad:

7
Pros:
Attractive design; Easy setup
Attractively designed, Built-in amp, Integrates well with Android Music and YouTube apps, NFC app link is handy (assuming your Android device supports NFC).
Hot looks — the 4.6inch black sphere with a ring of dancing rainbow LEDs is beautiful to behold. Builtin amp delivers 12.5 watts at 8 ohms per channel, and sounds excellent through a variety of speakers. App support goes back to Android 2.3. It's hackable. Autocalibration feature uses your handset's microphone to sync video and audio. Those who embrace paradox are ultimately more interesting,...
Cons:
Only works on Android 2.3 and later; Expensive; Limited functionality and content selection
Expensive, Requires an Android smartphone or tablet to work, Can't play video stored on your Android device, No Netflix or Hulu Plus, No streaming audio apps.
TechSpot is supported by its audience. When you buy through our links, we may earn a commission.
Learn more
.
Attractive design; Easy setup
Attractively designed, Built-in amp, Integrates well with Android Music and YouTube apps, NFC app link is handy (assuming your Android device supports NFC)
Hot looks — the 4.6inch black sphere with a ring of dancing rainbow LEDs is beautiful to behold. Builtin amp delivers 12.5 watts at 8 ohms per channel, and sounds excellent through a variety of speakers. App support goes back to Android 2.3. It's hackable. Autocalibration feature uses your handset's microphone to sync video and audio. Those who embrace paradox are ultimately more interesting,
Whimsical, attractive hardware design, YouTube streaming works great, Painless pairing process
Only works on Android 2.3 and later; Expensive; Limited functionality and content selection
Expensive, Requires an Android smartphone or tablet to work, Can't play video stored on your Android device, No Netflix or Hulu Plus, No streaming audio apps
Lack of support for popular software platforms, hardware devices and streaming apps limits the experience. Three hundred dollars is a big turnoff. Google Play TV and Movies app needs work. Setup is not smooth and easy, requires Ring of TFM. The "check back in a year and see if anyone's done anything interesting with it" line isn't an attractive proposition
Only works with Google Music, Play Store content, and YouTube, Confusing control scheme, Poor video quality with buffering issues