Kingston SSD 2.5 inch SSDNOW V Series 40GB MLC SATA300 SNV125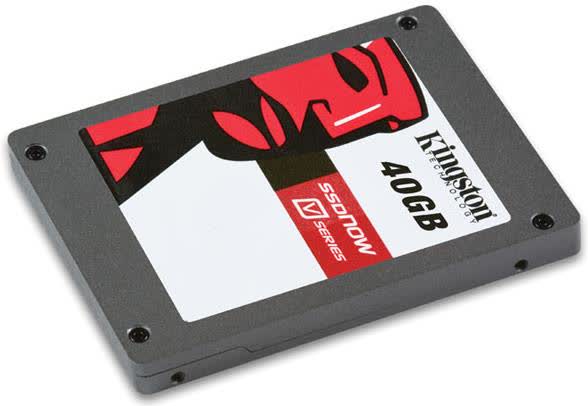 Pros:
System Is Snappier, Fantastic RAID Like Speed, Quiet, Never Gets Hot, Standard SATA Interface, Easy To Hide In The Chassis, Did We Mention Fast Really Fast
Strong read performance, Published transfer rate data may actually be conservative, Internals by Intel (controller and memory), Very attractively priced, Desktop upgrade kit includes items to make installation a snap, Bootable version of Acronis to make e
Very good 197 MBps read bandwidth with ATTO Benchmark, 2nd-generation Intel PC29AS21BA0 SSD controller boosts IOPS, Very low 0.16 ms random access time, Outstanding total-package value, Resistant to extreme shock impact, Lightweight compact storage sol...
Cons:
Price Still Higher Than Traditional Platter Drives, Write Speed Mediocre
Write performance is well below average at 40MB/s, Not convinced 40GB is enough for a boot drive or stand-alone
TechSpot is supported by its audience. When you buy through our links, we may earn a commission.
Learn more
.
System Is Snappier, Fantastic RAID Like Speed, Quiet, Never Gets Hot, Standard SATA Interface, Easy To Hide In The Chassis, Did We Mention Fast Really Fast
Strong read performance, Published transfer rate data may actually be conservative, Internals by Intel (controller and memory), Very attractively priced, Desktop upgrade kit includes items to make installation a snap, Bootable version of Acronis to make e
Very good 197 MBps read bandwidth with ATTO Benchmark, 2nd-generation Intel PC29AS21BA0 SSD controller boosts IOPS, Very low 0.16 ms random access time, Outstanding total-package value, Resistant to extreme shock impact, Lightweight compact storage sol
Very fast read speeds, Everything included in bundle, Low cost, Fairly easy installation
Price Still Higher Than Traditional Platter Drives, Write Speed Mediocre
Write performance is well below average at 40MB/s, Not convinced 40GB is enough for a boot drive or stand-alone
Unimpressive 47 MBps write bandwidth with ATTO Benchmark, Metal case is heavier and less durable than plastic, Low 40GB storage capacity, Lacks integrated USB 2.0 MiniB data connection, No public firmware updates available
Uming when moving files and folders