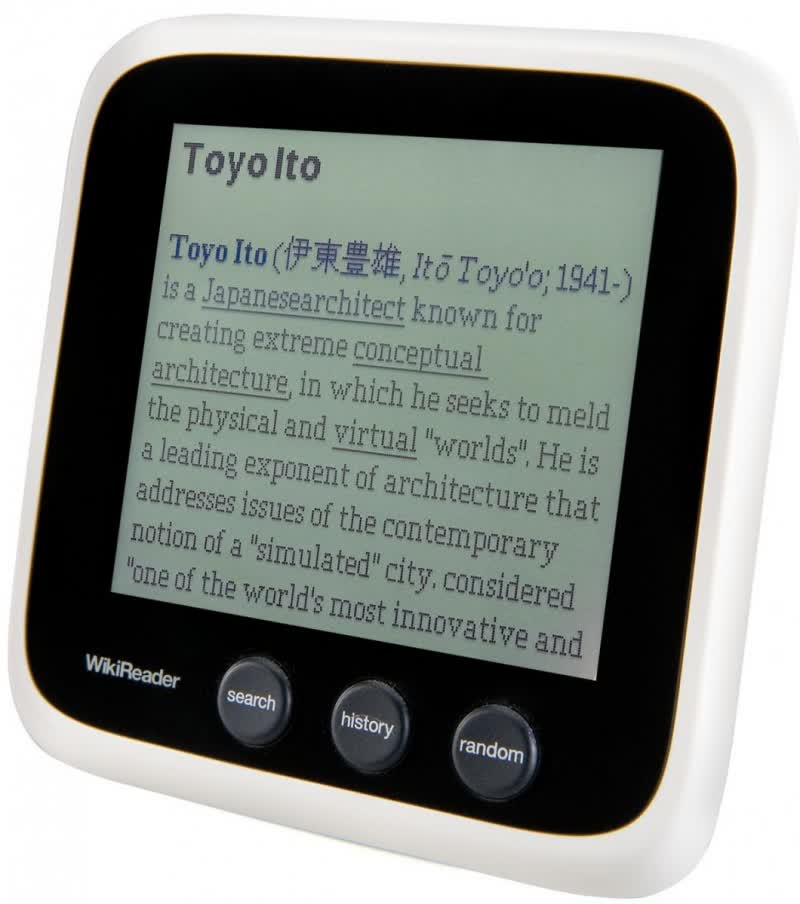 TechSpot Metascore
Based on
6

expert reviews
Excellent:

2

Good:

1

Average:

1

Bad:

2
Pros:
Contains wealth of Wikipedia content, plus quote database, a dictionary, and e-book library; fast to boot; MicroSD card slot
Simple to use. The entire Wikipedia in the palm of your hand. You can read books like The Count of Monte Cristo on it for free.
Take Wikipedia with you anywhere; fast; easytouse touch screen; long battery life.
Cons:
Pricey; no Net access; some articles truncated; touch display hard to read, navigate; no tools for bookmarking; content updates kludgy
Too many torrent files to download for updates. Screen is also hard to read in low light situations. Pointless if you have a smartphone.
TechSpot is supported by its audience. When you buy through our links, we may earn a commission.
Learn more
.
Contains wealth of Wikipedia content, plus quote database, a dictionary, and e-book library; fast to boot; MicroSD card slot
Simple to use. The entire Wikipedia in the palm of your hand. You can read books like The Count of Monte Cristo on it for free
Take Wikipedia with you anywhere; fast; easytouse touch screen; long battery life
Massive, crowdsourced encyclopedia in a portable package. Simple search interface. Requires no internet connection. No monthly fees. Runs for months on two AAA batteries
Wikipedia in your pocket, Touchscreen, Random topic, Free updates via download
Pricey; no Net access; some articles truncated; touch display hard to read, navigate; no tools for bookmarking; content updates kludgy
Too many torrent files to download for updates. Screen is also hard to read in low light situations. Pointless if you have a smartphone
No illustrations; no backlight; highly reflective glass screen
Dim, lowcontrast screen. No graphics in encyclopedia entries. No easy way to jump from heading to heading within articles. Updating requires a subscription, or a microSD card reader
No way to bookmark topics, All text, no images, No backlight, Only available in an English language version