3dfx Voodoo 5 5500 AGP review
Posted by Thomas McGuire on September 13, 2000 - Page 5/5
Company: 3dfx Interactive Product:

Voodoo 5 5500 AGP
DVD hardware assist
As with the Voodoo 3 previously, the Voodoo 5 5500 also has DVD Hardware assist. As previously stated this is more of marketing "feature" than anything else. As you may have read in my Voodoo 3 3000 PCI review this "feature" of the Voodoo 5 offers no real acceleration effect at all:
Colour space conversion exists in a totally different unit than MPEG-2 decoding, which the 3dfx FAQ claims that their "planar-to-packed conversion in hardware" will accelerate playback. In reality, 30 fps is 30fps. The Voodoo5 can't accelerate a hardware DVD decoder any further for the simple fact that they already offer a FULL 30fps. To put it simply, there is no DVD hardware assist in the Voodoo5 chipset. It will perform just as equal to any other chipset without hardware acceleration.
This is also true of other graphics cards, like the Matrox Millenium G400. Image quality & playback for DVD playback was perfectly fine either way regardless of this feature with my Sigma Designs Hollywood Plus.
Pros
Stunning image quality with X4 FSAA.

Superb 16-bit image quality thanks to the post filters available. This gives the "best of both worlds", i.e. near 32-bit image quality with near 16-bit performance.

Stable, no crashes or other serious problems (bar the screen capture bugs & at high resolution in some Direct3D games only 1 VSA-100 chip is used) experienced.

Great hardware texture compression support via FXT1/DXTC.

Nigh on perfect game compatibility, whether old or new & supports all major graphics API's.

Supports a wide variety Operating systems – Windows 9x, NT/2000, Linux, Mac & BeOS.
Cons
Apparently quite unstable at high AGP bus speeds, i.e. Greater than 66Mhz, particularly 89Mhz where it may not work on some systems. Overclockers should be wary, or at least be sure they can return the card.

Can be quite slow at times with X4 FSAA.

OpenGL driver needs more work – In both the area of performance & compatibility.
Conclusion
The best video card ever? No. The Voodoo 5 5500 is not that. It does however offer exceptional image quality with great performance in games. Those of you who play Unreal engine or Simulation type games (e.g. Flight Simulator 2000) will definitely get the most benefits from this card, although it's good with other games too. Still, Quake 3 engine users interested in speed alone would definitely benefit more from an nVidia GeForce instead with its excellent OpenGL driver.
One thing the Voodoo 5 settles is that the FSAA is not pure hype, unlike T&L currently is (Few games support it & of those that do only 1 shows only real benefit, MDK 2). For the moment FSAA is what matters, it makes a REAL difference to ALL 3d games both past, present & future.
I'd like to rate this card higher, but as I said, there are a few issues with it which don't warrant the card receiving an Outstanding rating. Still, hopefully future driver revisions will fix some of these issues (e.g. OpenGL driver).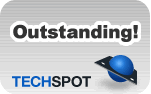 3D Spotlight review score:
9/10
Company: 3dfx Interactive Product: Voodoo 5 5500 AGP