A good monitor makes all of the difference when you spend several hours a day in front of one. As we slowly transition into higher resolution panels, there's plenty to be excited about right now. Gamers may want something with refresh rates higher than 60Hz and support for Nvidia or AMD's variable refresh rate technology, while media professionals will prioritize a top quality panel and color accuracy above all else. Or maybe you're not strictly in one group or the other and are looking for an overall balance between image quality, features, ergonomics, connectivity and screen size relative to a certain budget. After looking at some of the best monitors in the market, and hundreds of professional and user reviews, these are our picks for best monitors in a handful of distinct categories.
Best Enthusiast Monitors
Great | Differentiating Features
Factory calibration and report, accurate colors out of the box, amazing image quality. Five port USB 3.0 hub (1 with battery charging). Good warranty. Powerful audio output.
Good | Most Have It
Tilt, height, swivel and rotate adjustments. Competitively priced. Elegant design.
Average | Competitors May Be Better
Four of the USB ports can be tricky to reach, but we're just being nitpicky.
For over a decade Dell UltraSharp monitors have been a favorite among enthusiasts and media professionals alike and for good reason. The newest 27-inch model continues that tradition by being an excellent all-round display. Performance wise the U2715H remains largely the same as the U2713HM, with similar viewing angles and contrast ratio, and great out of the box color fidelity -- no need for calibration. The newer model improves input lag, making it better suited for gaming, and it also uses a new LG AH-IPS "Neoblade" panel featuring a borderless design that allows for a sleeker ultra-thin bezel design. Its native resolution is 2560×1440 and has a 60Hz refresh rate.
In terms of design the U2715H sports an elegant, premium looking design, not to mention a great stand with a wide range adjustments that's well ahead of the competition. It can swivel about 45 degrees left or right from center, tilt 20 degrees back and 4 degrees forward, and raise and lower approximately four and a half inches from its lowest position to its highest, and can rotate into portrait mode. Connectivity is another strong area with five USB 3.0 ports, two HDMI 1.4 connections, one Mini-DisplayPort 1.2, and two standard DisplayPort 1.2 connections—one for going from your PC to your monitor, and the other for daisy-chaining.
Lastly, the U2715H is covered by not only the standard three-year limited hardware warranty, but also Dell's Premium Panel Guarantee, which gets you a free replacement monitor if yours arrives with a bright pixel defect, and a three-year Advanced Exchange service, so can ask for a replacement monitor even before you send the defective one back.
Priced at around $460 this is a top contender for anyone looking for a color accurate 27-inch IPS monitor.
Also great: Going ultrawide
If you want something even larger that could replace a dual monitor setup, the Dell UltraSharp U3415W might be right up your alley. Like its 27-inch sibling, the U3415W uses an IPS panel that delivers the same rich, accurate colors out of the box, solid gray-scale performance and wide viewing angles. But it's also slightly curved, has a maximum resolution of 3,440-by-1,440 and a 21:9 aspect ratio. It's great for multitasking and although it's not a gaming monitor, it's still snappy and responsive. This is a very well rounded option in the $700-$800 price range (currently priced at $755) and we've really come to like the ultrawide form factor.
Best Affordable 4K Monitors
Great | Differentiating Features
AMD FreeSync support, 4K graphics (3840 x 2160) at 60Hz over HDMI 2.0 and DisplayPort 1.2.
Good | Most Have It
TN panel delivers excellent response time for the gaming crowd. Relatively affordable. Attractive design.
Average | Competitors May Be Better
No USB ports. No height or swivel adjustments. TN screen limits off-angle viewing.
Not a lot of people need a 4K computer monitor right now, but if you've got the hardware to push that many pixels and want to jump in on the fun, there are a handful of relatively affordable options from Asus, Samsung and LG. Our affordable 4K monitor pick goes with the 28-inch Samsung U28E590D, at $490. This monitor offers 4K resolution (3840 x 2160) at 60Hz through both DisplayPort 1.2 and HDMI 2.0. It uses a TN panel, which is why it's rather affordable and has a lightning fast 1ms grey-to-grey response time, though this also means it doesn't have the same level of color accuracy and viewing angles as an IPS panel. Samsung tries to remedy the latter through software with a feature called MagicAngle and it does help somewhat.
The U28E590D also supports FreeSync technology which is a crucial feature for anyone interested in 4K gaming given it's quite taxing on today's hardware. The feature is designed to minimize tearing and stuttering on the screen by synchronizing display frame rates with those of your PC's graphics card -- in this case, an AMD Radeon GPU. Samsung has also added 'Picture in Picture' and 'Picture by Picture' options, that allow you to load a full HD image into a single quadrant of the screen, or split the screen in half for two sources.
In terms of design this is one of the best looking monitors in its price range. It has a fairly narrow bezel and an elegant matte black body and metallic rim, elevated by a T-shaped stand. The stand doesn't offer much in the way of adjustments, though -- basically tilting forward up to 20 degrees and backwards 2 degrees. As far as connectivity is concerned, there are a couple of HDMI 2.0 ports and one DisplayPort 1.2. Sadly, no USB ports at all.
Overall the Samsung U28E590D's rendering of 4K content looks great and its support of FreeSync is ideal for gaming, but the use of a TN panel likely won't live up to expectations for design and media professionals.
A step up to an IPS panel
For about $130 more the LG 27MU67 offers similar specs as well as FreeSync support, but upgrades to an IPS panel that'll get you improved color coverage and accuracy along with better viewing angles. It's the better choice for graphics professionals who want a 4K display without spending more than $1,000 on a pro-grade 4K monitor. The LG remains gaming capable monitor, too, thanks to AMD FreeSync support. Connectivity includes two HDMI 1.4 ports, a DisplayPort 1.2 and a Mini DisplayPort 1.2 -- no USB.
Best Gaming Monitors
Great | Differentiating Features
G-Sync support, 100Hz refresh rate, ultrawide 3440 x 1440 resolution and slightly curved form factor makes up for an amazing overall gaming experience.
Good | Most Have It
Good response times for IPS and very low lag.
Average | Competitors May Be Better
Expensive. No swivel in stand. Only two video inputs. The OSD could be better to navigate.
When it comes to immersive gaming setups you can go as crazy as your budget allows with multi-monitor setups, but we have to say, even in a single monitor scenario the Acer Predator X34 has just recently won our hearts. Its subtly curved 34-inch UQHD (3440 x 1440) AH-IPS panel provides excellent viewing angles and good brightness and contrast with vivid colors, though it required some calibration out of the box. Commonly accepted IPS shortcomings from years past, namely input lag and ghosting, aren't issues for the Predator X34, and its 100Hz vertical refresh rate earns it some gaming cred.
For movies, the Predator X34 is an absolute treat. The slightly curved nature of its screen lends to the overall illusion of immersion, and the form factor allows 21:9 cinematic content without letterboxing -- although 16:9 content which is common online will be pillarboxed (i.e. black bars on the sides).
Obviously gaming is where the Acer Predator X34 really shines. The 21:9 aspect ratio offers a wider field of view, which could prove advantageous in some games, and its support of Nvidia's G-Sync combined with a 100Hz refresh rate is nothing short of amazing. Variable refresh rate technology like Nvidia's G-Sync or AMD's FreeSync is a must for any gaming monitor. We've covered this in detail here, here and here if you want to read up some more. In short, it's a game changer feature that aims to eliminate frame stuttering and screen tearing by synchronizing display timings to frame rates.
Some things to keep in mind: not all game engines currently support 3440 x 1440, so it might be a good idea to check your favorites first, and of course, some graphics-intensive titles will require higher-end hardware to run smoothly at that resolution. But you already knew that.
In terms of design the Predator X34 embodies its namesake with plenty of points and edges. The stand is remarkably sturdy yet thin and offers some basic but essential physical adjustments like vertical height and backward/forward tilt. Connectivity includes a single 1.2a DisplayPort, a single HDMI 1.4 input, a DP daisy chaining port for connecting a secondary display direct, and a 4-port USB 3.0 hub.
While the X34's strengths are in gaming, it also offers plenty of screen real estate for productivity to rival dual display configurations. The curved display isn't a deal breaker for purposes of work and web browsing.
At over $1300, it's definitely pricey but this is one damn cool gaming monitor.
FreeSync version: If you have an AMD Radeon GPU
If you don't own an Nvidia graphics card, Acer has a FreeSync model (XR341CK) which is substantially cheaper at $838 and is nearly identical except that the Predator X34 can hit 100Hz with Nvidia's G-Sync technology, and the XR341CK reaches 75Hz, with AMD's FreeSync technology.
A solid gaming monitor for less
If you want a smaller, cheaper alternative, the $335 Asus VG248QE is a capable 24-inch 1920 x 1080 gaming monitor that uses 144Hz refresh technology and a speedy 1-ms pixel response to deliver smooth gameplay. As is the case with most TN monitors, the VG248QE has relatively narrow viewing angles, but color accuracy and contrast are decent and it's really bright. It also supports Nvidia's 3D Vision for 3D gaming if that's important to you, while you get one DVI, DisplayPort and HDMI port each.
Best Value Monitor
Great | Differentiating Features
Very competitively priced for an IPS monitor, good color accuracy out of the box.
Good | Most Have It
Good viewing angles.
Average | Competitors May Be Better
Limited ergonomic adjustments.
Unlike most budget options the VS239H uses an IPS panel instead of TN and as such will deliver better color accuracy and viewing angles than most other monitors in its price range. Its a 23-inch unit with a native 1920 x 1080 resolution and a 60Hz refresh rate that will get the job done. Its 5ms response time combined with Asus' built in Trace-free feature set to 60 eliminates most ghosting, making it good for gaming and HD video watching.
At this price range don't expect much in terms of features. You can tilt the screen, but that's about it, there's no cable management and it doesn't come with any built-in USB ports or card reader. Design-wise it isn't anything special but it's thin and has a thinner than average bezel for monitors in its price range. Asus back this unit with a three year warranty and free 2-way shipping which is also pretty decent for the price. At $140 it's a great value despite its compromises.
Best Overall, No Expense Spared: The Jury is Still Out
Last year we looked at the Dell UltraSharp UP3214Q and it was definitely among the most impressive monitors we'd ever looked at. Its 31.5-inch, 3840 x 2160 (140 PPI) screen is expansive, the picture is bright, colors are rich and everything about it appears well-designed. At the time it was the best you could get for anyone who values workspace and image quality above all else. But it wasn't without its quirks, mostly due to a tiled design -- essentially two screens stitched together -- that both limited alternate resolutions and produced mildly erratic behavior.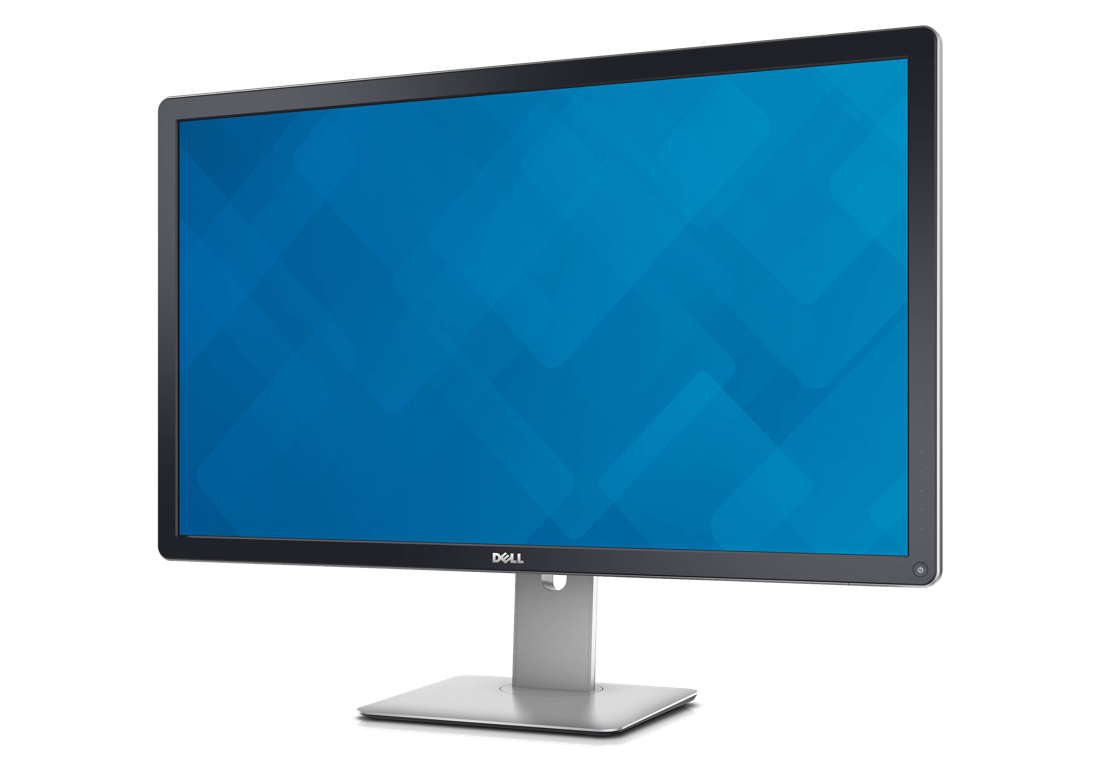 The new Dell UltraSharp UP3216Q is meant to fix that by utilizing a new IPS panel and a non-tiled design. But we haven't had a chance to try it out just yet and there aren't any reviews to be found online -- so obviously, we had to hold off making any recommendations.
Looking at the spec sheet it looks like nearly everyting else is the same as its predecessor. You get a 3840 x 2160 (4K UHD) resolution, 300 cd/m² typical maximum brightness, 178° horizontal and vertical viewing angles, 99.5% Adobe RGB coverage and 100% sRGB coverage. As usual with Dell's UltraSharp family, the monitor comes factory calibrated for a DeltaE <2, with separate calibrations for both sRGB and Adobe RGB, and support for hardware calibration by the user with the optional X-Rite i1Display Pro. Dell's previous flagship 4K monitor held strong as the best monitor you could get no expense spared, so we have very high hopes for its successor.