Memory Benchmarks
Test System Specifications
AMD Athlon64 3800+ Socket AM2
AMD Athlon64 3000+ Socket AM2
Corsair PC5400 Pro 2GB DDR2
ASUS M2N32-SLI Deluxe (nForce5 590 SLI)
Seagate 250GB 7200RPM (Serial ATA II)
ATi Radeon X1900XTX (512MB)
Software
- WinXP 32bit - Microsoft Windows XP Pro (SP2)
- WinXP 32bit - ATI Catalyst 6.6
- WinXP 32bit - NVIDIA nForce 590 SLI 9.35


Although the AM2 platform is slightly slower than its predecessor, this stepping consumes less power and produces less heat, and this no doubt played a huge roll in the overclocking success of the Orleans core.

Utilizing basic air-cooling and an ASUS nForce 590 SLI motherboard, this 1.8GHz AMD processor soared to an unbelievable 2.7GHz. But don't let that fact stop you from checking out all the performance benchmarks we have cooked up for you.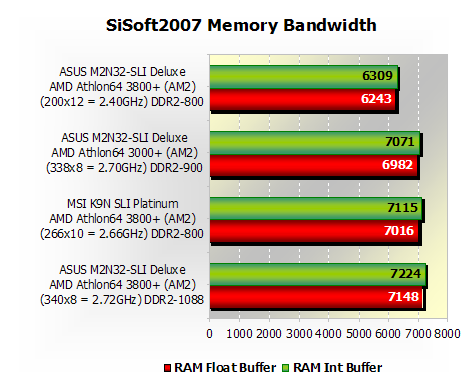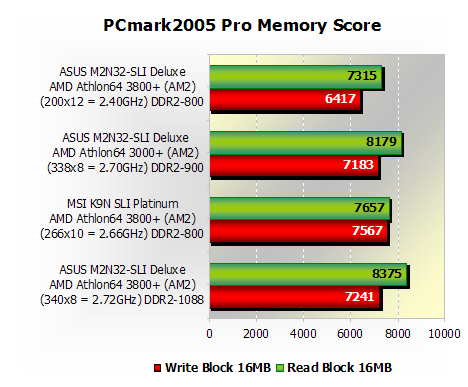 As you can see the memory bandwidth performance only varied slightly from one overclocked configuration to another. Despite operating on a 338MHz FSB the overclocked AMD Athlon64 3000+ processor was slightly slower than the Athlon64 3800+ using a 266MHz FSB, according to SiSoft2007. The PCmark2005 results were much the same, though the 3000+ did pull ahead of the 3800+ (266MHz FSB) configuration in the 16MB read block test.