Today we have in our hands the
latest Intel Core 2 Extreme quad-core processor
, and I know what you are thinking but no, this is not yet another extremely expensive processor featuring the same four cores with only a speed bump over the last QX6850 we looked at last time. Hmm, ok so I told a bit of a white lie there, as this is still an extremely expensive processor, but it's not just another in a chain of speed bumps. The new
Core 2 Extreme QX9650
represents Intel's new flagship processor technology which until now was mainly known by its code-name "Penryn", manufactured on a 45nm design process, adding fifty new SSE4 instructions, among other things.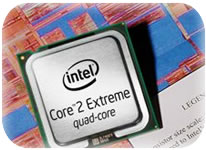 The
Core 2 Extreme QX9650
is the first of many products to be released using the Penryn architecture. Like the previous Core 2 Extreme QX6850, the QX9650 also works at 3.0GHz but adds a number of enhancements. Perhaps the most prominent, Intel's 45nm High-k metal gate silicon technology, which is claimed to be an industry's first, featuring transistors with reduced current leakage designed to decrease power consumption while also accommodating for increased clock speeds. This is a big deal considering Intel has used the conventional silicon-oxide technique since 1960.3
Read the
complete review
.