Asus has officially unveiled its latest ROG-branded (Republic of Gamers) motherboard, the Crosshair IV Extreme. The EATX board features AMD's 890FX+SB850 chipset combo and features a slew of overclocking functions, including the ability to tweak settings remotely over USB from a connected notebook, using a Bluetooth cellphone, and even from a new iPhone app called ROG iDirect. It also sports a Lucid HydraLogix chip, allowing you to mix up to four different Nvidia and ATI GPUs together.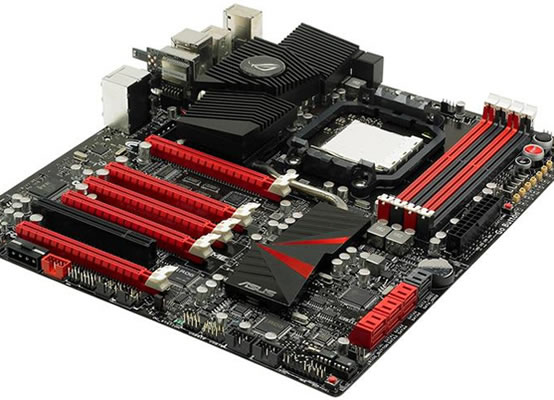 The Crosshair IV Extreme supports up to 16GB of DDR3 2000MHz RAM spread across four DIMM slots and it has five PCIe 2.0 x16 slots (quad configurations run at x16 x16 x8 x8). Other I/O includes one PCI slot, six SATA 6Gb/s, two SATA 3Gb/s and two eSATA 3Gb/s ports, two USB 3.0 and 2.0 ports on the rear panel, Bluetooth v2.0/2.1+EDR, and gigabit Ethernet. US pricing and availability is unknown, but
TechConnect
reports that it's available for preorder in Europe for €290 -- the
rough equivalent
of $378.