Nike+ Move App turns your iPhone 5S into a FuelBand, sort of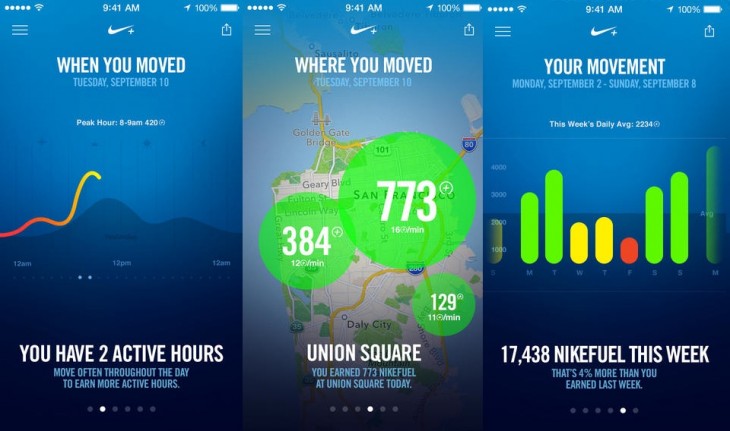 Want the benefits of Nike's popular FuelBand but hate wearing wrist accessories? Lucky for you (if you have an iPhone 5S), the sports apparel company has recently released the Nike+ Move application into the Apple App Store. Many of you may recall seeing a preview for this app at Apple's recent iPhone 5S unveiling event. Basically, the app relies on the iPhone 5S' M7 chip to turn your phone into a fitness data machine.
The program continuously tracks movement-based information via the iPhone's compass, gyroscope, and accelerometer. All of this info is stored and presented to you via a NikeFuel feedback system, very similar to the company's wearable wrist device. You'll even get 10 days worth of pre-tracked information the first time you boot up the app, thanks to the M7 chip, which is automatically gathering and storing data in the background.
Unfortunately, the Nike+ Move app isn't as sophisticated as the current dedicated application that comes packaged with the FuelBand. Any missing features aside though, the Move+ app still allows you to track basic fitness data, all without having to wear an annoying wrist band.
The good news here is that the application is free and available for download today via the Apple App Store. That should save you some money on expensive accessories, except maybe the iPhone 5S that is required to run the program. But a lot of people already have one of those by now. Hopefully we will see a similar program make it's way to the Android platform in the future.
89
The iPhone 5s is the Apple's latest flagship handset. The iPhone 5s is powered by a first of its kind 64-bit A7 processor and the same 4" Retina display as its predecessor. It also includes a fingerprint reader dubbed Touch ID, HD video capture at 720p at 120FPS that can also perform slow motion at 120FPS. Battery life on the iPhone 5s is rated for 10 hours of 3G talk time, LTE browsing, Wi-Fi browsing and video.