System Specs & Memory Performance
Hardware
- AMD Sempron 2800+ (1.80GHz) s754
- 1GB Corsair XMS DDR-400 (CAS2)
- EPoX 8GF6100-M (NVIDIA GeForce 6100)
- Albatron KI51PV-754 (NVIDIA GeForce 6150)
- OCZ GameXStream (700 watt)
- Seagate 250GB 7200RPM (Serial ATA II)
Software
- Microsoft Windows XP Pro 32bit (SP2)
- NVIDIA nForce4 AMD 6.70
- NVIDIA Forceware 91.47


The EPoX 8GF6100-M was used for comparison to determine how well the Albatron KI51PV-754 performed against a larger more standard microATX motherboard. Full specifications for this motherboard can be found here.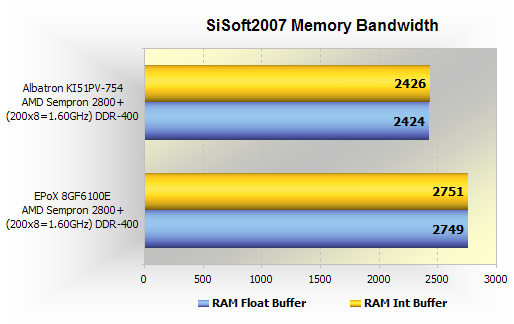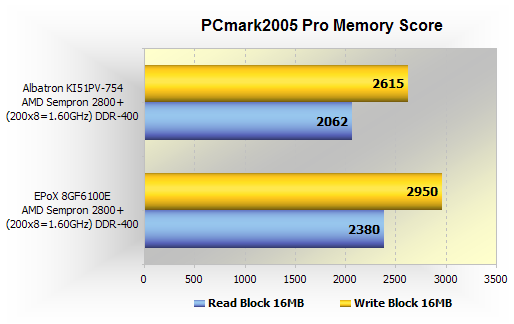 Being such a small motherboard, I never expected the KI51PV-754 to set any new speed records given how crammed the design is. That said, it appears the smaller design has resulted in a 10% loss in memory bandwidth. Keep in mind the Sempron only works in single-channel mode so 2.4GB/s at DDR400 is not all that bad. Though, the EPoX Micro-ATX board did manage 2.7GB/s. Similar results were recorded in SiSoft2007 and PCmark2005. The MemTach Analyze results on the other hand saw almost no performance variations between the two motherboards!