Fujifilm FinePix Z700 EXR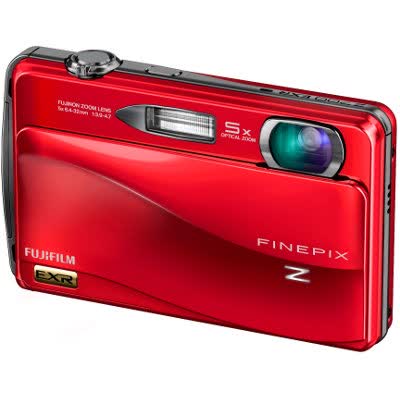 Pros:
High quality fit and finish, Slim design, Intuitive touch screen interface, High dynamic range feature, Touch and shoot mode, Good exposure system
Good color reproduction, Very responsive 3.5-inch touchscreen
Good build and nice design, Big touchscreen, Cats and Dogs detection worked fine, Warm color tone
Cons:
Super CCD artefacts in images, Lens prone to flare, Touch screen can be quite difficult to see in bright conditions, Noise performance not as good as I'd hoped
Fingerprint magnet, Noise when shooting under low light conditions, Video recording sucks, Disappointing macro range, Limited manual mode
TechSpot is supported by its audience. When you buy through our links, we may earn a commission.
Learn more
.
High quality fit and finish, Slim design, Intuitive touch screen interface, High dynamic range feature, Touch and shoot mode, Good exposure system
Good color reproduction, Very responsive 3.5-inch touchscreen
Good build and nice design, Big touchscreen, Cats and Dogs detection worked fine, Warm color tone
Focus and shoot with two taps. With/without flash bracketing. Classy looks
Good color reproduction; large 3.5-inch touchscreen; interesting cat/dog detection
Super CCD artefacts in images, Lens prone to flare, Touch screen can be quite difficult to see in bright conditions, Noise performance not as good as I'd hoped
Fingerprint magnet, Noise when shooting under low light conditions, Video recording sucks, Disappointing macro range, Limited manual mode
Images lacked details and sharpness, Slow on focusing in low light and at the tele end, Digital artefacts visible at actual resolution view, Choppy video quality, No wide angle lens
Poor colour reproduction. Clumsy touchscreen interface. Awkward to hold
Sluggish performance; user menu can be more intuitive; design doesn't draw much attention; fingerprint magnet