TechSpot is celebrating its 25th anniversary. TechSpot means tech analysis and advice
you can trust
.
When you buy through our links, we may earn a commission.
Learn more
.
No PC build is complete without a decent set of peripherals, and of all the parts that go into one, the keyboard probably ties with cases when it comes to catering a wide variety of tastes. A sea of options await gamers, enthusiasts and productivity-focused users, not to mention the general demographic that's a good mix of the three.
Users in the enthusiast category are a particularly tough crowd to please, as they not only expect the finest in terms of build quality and typing experience, but also treat keyboards as objects of personal expression. No, not just by typing words and sentences like the rest of us, but with their choice of bespoke switches, colorful key caps, and trendy designs. Some even go as far as solder one from scratch, but one-off builds like those are a topic for another day.
Today, we'll be looking at off the shelf options, keyboards that are best for working at the office (or from home) based on hardware and software features, build quality, design ergonomics and cost. Read on to explore the best options currently available, unless there's an IBM Model M sitting majestically on your desk.
Best for Productivity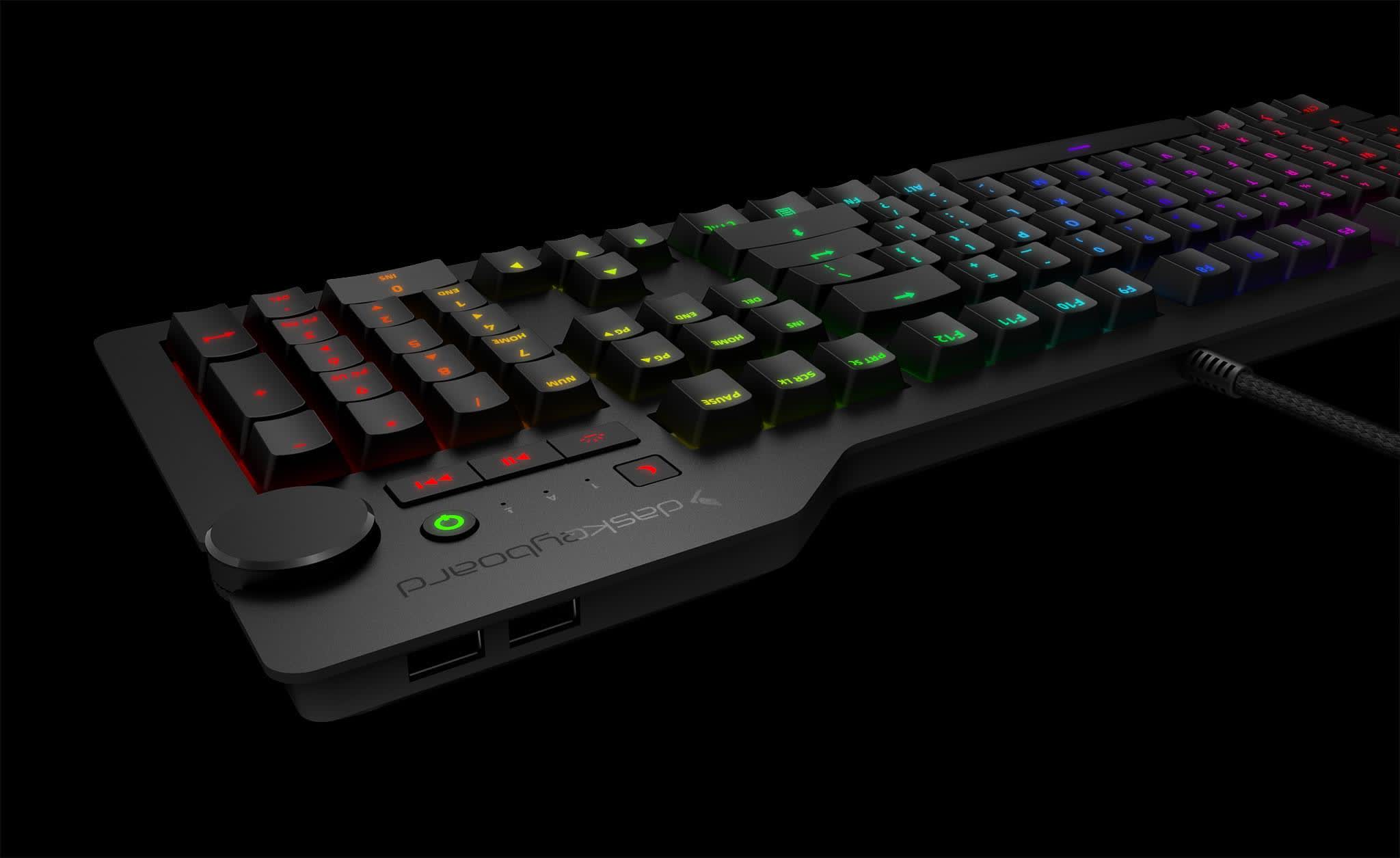 Known to stand the test of time, Das Keyboards have built a loyal following among enthusiasts for over a decade and have also been featured in our mechanical keyboard recommendations for several years in a row. The Das 4Q is one such model that remains our top pick if you're looking for a work and productivity-focused keyboard.
We reviewed the Das 4Q a while back and came away impressed with its sturdy build quality, elegant design and a top-notch typing experience. It's nearly identical to our previous favorite, the Das Keyboard 4 Professional, but it's more stylized and offers per-key RGB backlighting. The 4Q stays true to Das' roots in terms of aesthetics and its 104-key layout. It includes a dedicated media hub, an oversized volume knob, and buttons for pausing or playing music, skipping between tracks, and muting your system's volume entirely. We'd be remiss if we didn't mention the keyboard's sturdy aluminum top panel, which not only adds some greatly-appreciated durability but staves off fingerprints with relative ease.
The Das 4Q adds support for Q software, which the company touts as IoT smart keyboard functionality. We first saw this added to the Das 5Q and X50Q and we found the whole concept to be a little gimmicky. Ultimately, it's something you may take advantage of, or you can also use the software for customizing the keyboard's lighting to your liking.
The included 2-port USB hub is a must-have for productivity users looking to connect multiple devices and free up connections on their main system. However, they may find the keyboard's USB 2.0 ports slightly limiting to their workflow. Weirdly, Das offers faster USB 3.0 connectors on the $30 cheaper 4 Pro, while its $250 Das 5Q flagship with faster key detection and even more durable Omron switches comes with no USB hub whatsoever.
Regardless, we believe the Das Keyboard 4Q is well rounded where it counts the most. This is first and foremost designed as a productivity device (though it works well for gaming, too), and that shows in its first-rate typing experience and the steep $200 price tag. It's only available with Cherry MX Brown switches, but they generally offer a good balance of clicky feedback and remain quiet for a mechanical keyboard.
A Solid, Affordable Alternative
Receiving unusually lengthy emails from upper management? The culprit might be your IT department that's decided on a company-wide roll-out of Logitech's affordable and comfortable K845 mechanical keyboards.
The Logitech K845 is an elegantly designed, corded keyboard that's offered with a choice of linear, tactile and clicky switches from either Cherry or TTC. The sturdy, aluminum construction, slim profile and gentle white illumination underneath the floating keys serve its form, while function is complemented by the use of adjustable tilt legs and a full-sized layout for helping with spreadsheet calculations.
Coming in at $60, the Logitech K845 expectedly rules out convenient features like USB pass-through, dedicated media keys or a wrist rest, but its professional look and feel is a solid upgrade over cheap, bland rubber dome keyboards that can usually be found catching dust on reception desks. A simple plug and play experience, durable build, comfortable keys and an affordable price tag make it one of the best productivity keyboards currently on the market.
Best Enthusiast Keyboards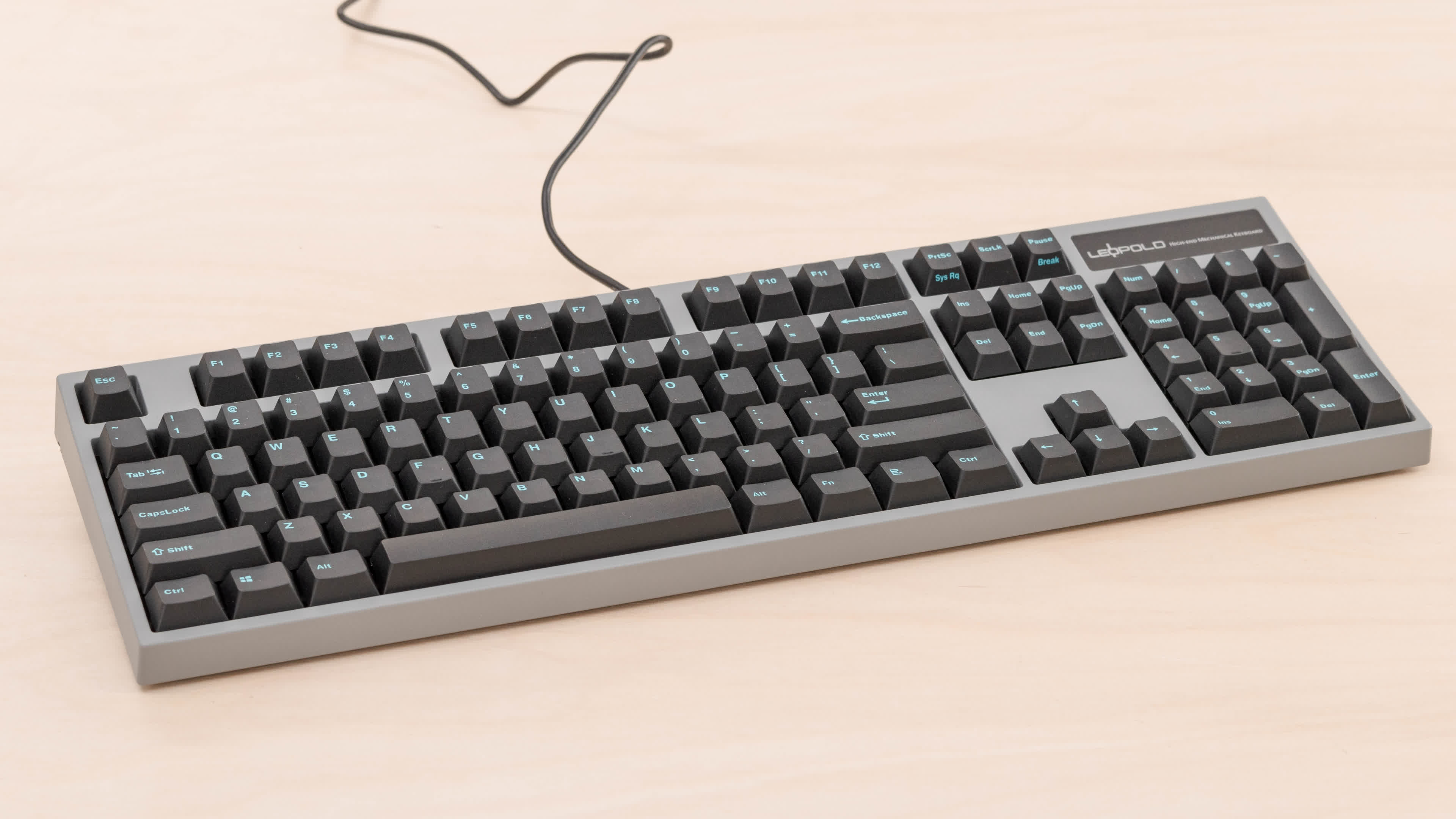 Folks who value silence as they type away endlessly should consider Leopold's FC900R with Cherry's MX Silent Reds. This high-end mechanical keyboard features double shot PBT key caps and goes to great lengths in dampening out noisy presses by containing them inside a sturdy plastic case with sound absorbent pads.
Enthusiasts prefer personalization, and the FC900R addresses that concern with a variety of color schemes...
There's an eye-catching mix of light blue and gray, tan and black, a classic two-tone white, or the option of going discreet with the standard black model. You can also opt for a colorful yellow/blue key combination with a white or black base, or a striking blue/white key combo over a red base.
The FC900R also comes with two extra keycaps (Ctrl, CapLk) and features DIP switch adjustment for swapping their positions (left side) as well as the Windows and Left Alt key. Although there's three-way cable routing for better wire management, this keyboard uses a mini USB port for interfacing, which might put off some users. Hardcore enthusiasts, meanwhile, would probably deploy the PS/2 to USB-A convertor that comes out of the box.
At 1.2 kg/2.2 lbs, the FC900R certainly has heft to it and the price (which varies depending on color) can feel a bit steep, especially as the keyboard's feature list is pretty brief. Enthusiasts, however, will likely ignore that in favor of the FC900R's premium build quality, restrained design, thoughtful touches and comfortable typing experience.
The Drop Shift maintains a remarkably compact profile, despite being the company's first full-sized keyboard. This enthusiast option also targets gamers with its per-key customizable RGB lighting that also wraps around the keyboard and justifies an expensive price tag with a high-quality aluminum construction, wide variety of switches and low-latency performance.
The curved corners on the Shift's slim aluminum frame and the closely packed double shot PBT chunky key caps make for a cozy, unique design, and it also manages to include LED indicators for Num Lock/Caps Lock/Scroll Lock keys in such a small footprint.
Thankfully, for a pricey enthusiast keyboard, the Drop Shift doesn't completely skimp on convenient features and comes with magnetically removable feet that can be tilted in multiple ways and interfaces using a modern, detachable USB-C port that can be connected on either side (front right/left) of the keyboard.
Minor gripes with the Drop Shift are that it uses a web app should a user need to create custom profiles, though accessing other functions like adjusting brightness and cycling through RGB presets is done via onboard hotkeys. It also lacks a wrist rest. Sooth your wrist by attaching one and you may end up conflicting with the Shift's space-saving design premise.
Best Wireless Keyboards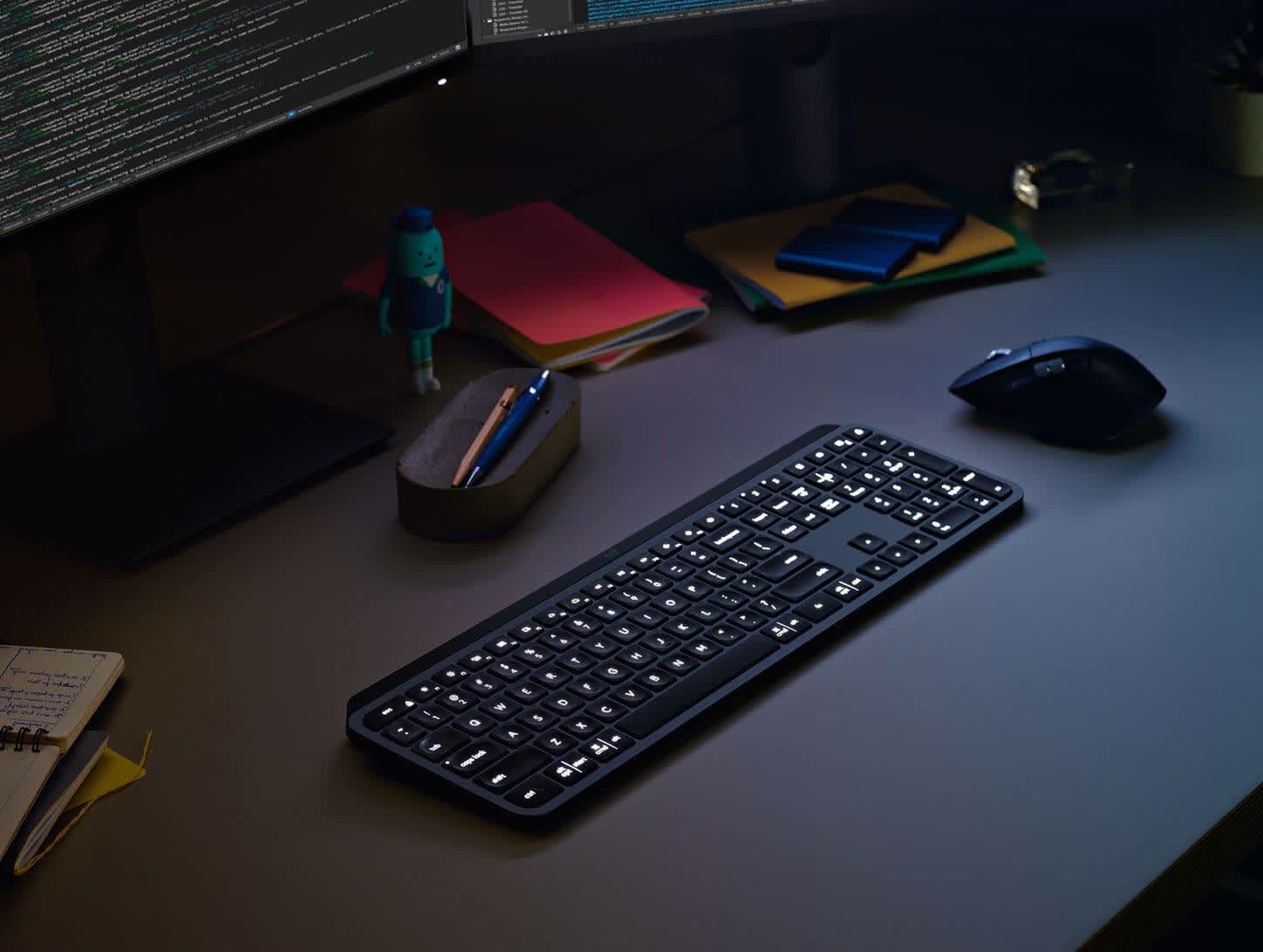 Logitech's keyboards have repeatedly shown up in our top picks, gaming or otherwise, and the company's wireless MX Keys is another recommendation that falls under the best wireless keyboard category.
The MX Keys takes full advantage of cutting the cord as it allows pairing with up to 3 devices and uses Logitech's Flow app for seamless connectivity and file sharing across different platforms. Its illuminated, dished keys sit on a scissor switch mechanism to make for a silent, snappy and tactile typing feel that's ideal for work and productivity tasks, though less suitable for playing games.
It also offers a decent 10-day battery life, which can be extended to 5 months with the backlight disabled. Recharging is a simple matter of plugging in the keyboard via USB-C which allows for continued operation. The MX Keys is also compatible with all mainstream platforms (Windows, macOS, Linux, Android, iOS) so working in a system-diverse office environment should be a breeze.
At $99, the MX Keys isn't cheap, but its slim metal design, rich connectivity options and Logitech's solid, reliable build quality make it the best wireless keyboard currently available.
Another sleek-looking wireless option is the Microsoft Designer Compact, a TKL keyboard with a much lower price point (and features – $54) than the MX Keys. The Designer Compact is for frequent travelers or users short on space interested in a comfortable typing experience.
This Bluetooth keyboard's battery life shouldn't be much of a concern, at least for the first couple of years, as Microsoft says it should last for up to 36 months (3 years). Although, once it runs out, you'll need to replace the four CR2032 type lithium coin cells inside.
Like the MX Keys, this keyboard uses a scissor-switch mechanism for the chiclet keys and supports on-the-fly switching between three devices, albeit not as seamlessly as the Logitech. Another neat touch is the addition of a dedicated emoji key, officially called the "Expressive Input" key. It gives quick access to the Windows emoji menu that can come in handy during chatting sessions.
There are a few quirks with this keyboard. It doesn't have a backlight or status indicators for instance, and the unusual placement of keys (like the delete key) mainly due to its compact, TKL layout and small arrow keys may take some getting used to. Users looking past these issues will notice a high-quality, minimalist wireless keyboard suitable for work and home use.
Best Gaming Keyboard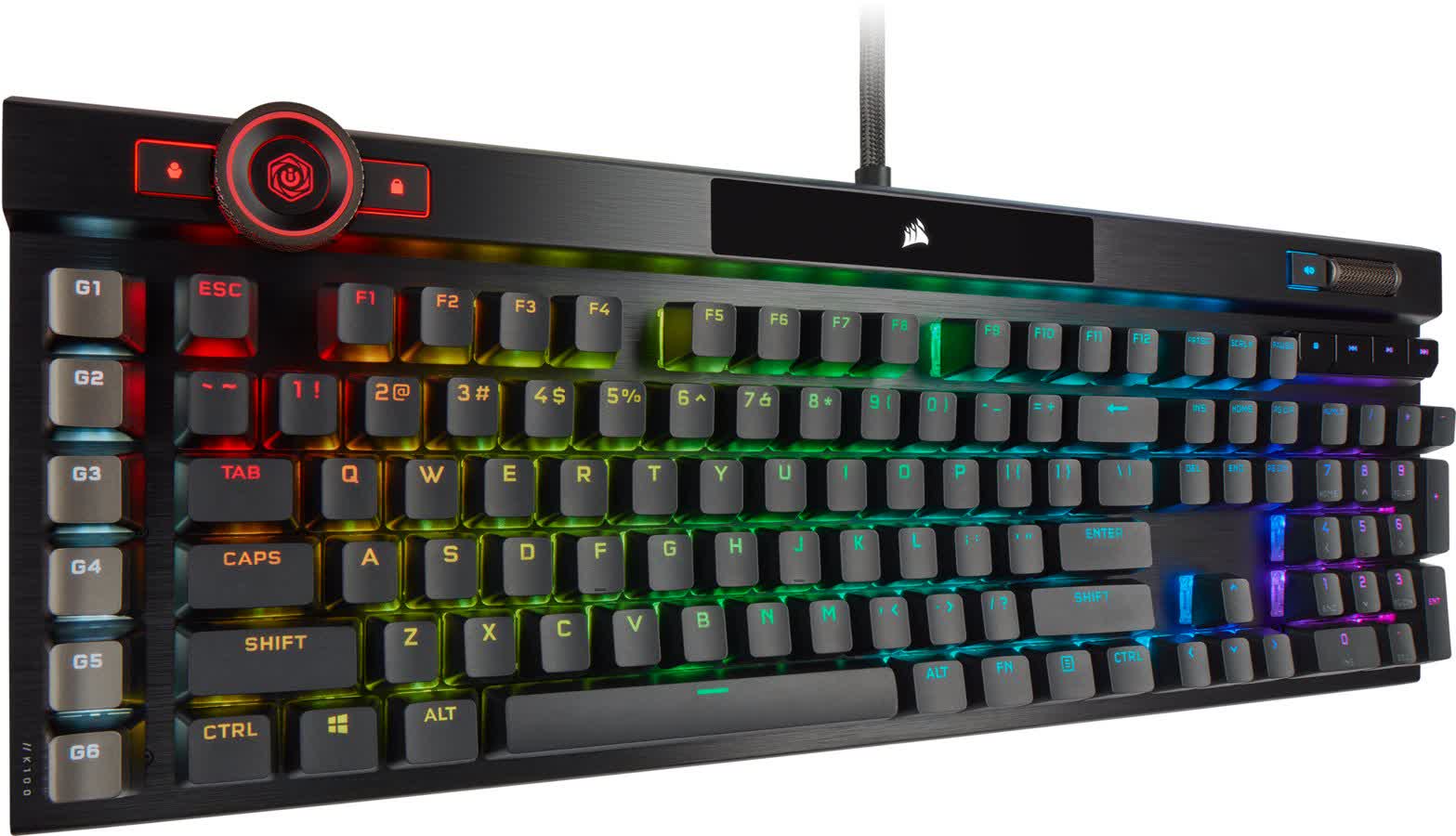 Pretty much every keyboard on this list will be able to handle a bit of casual gaming. However, Corsair's flagship K100 RGB throws in everything but the kitchen sink and that's why it's our top pick when it comes to choosing the best gaming keyboards. Check out TechSpot's dedicated buying guide for gaming keyboards here.
You'll need deep pockets to afford the K100 RGB, but Corsair's continual refinements to its flagship gaming keyboard have yet again earned it the top spot in our high-end wired category. While its predecessor, the K95 RGB, remains a solid option in its own right, Corsair's latest features laser activated, opto-mechanical keys for superfast actuation that eliminates debounce delay and offers added durability over traditional, mechanical switches.
Corsair also offers a slightly more affordable K100 with Cherry MX speed switches for gamers unwilling to move to the newer optical tech. Both versions arrive with an updated design that adds even more RGB across the front and sides, and a new in-your-face iCue-powered media control wheel.
The Corsair K100's aluminum frame, PBT keycaps, six macro keys, removable wrist rest, USB 2.0 passthrough port and the dizzying 44-zone LightEdge RGB lighting make it the ultimate choice for gamers that won't spill their drinks, but are looking to splurge on a premium, wired keyboard.
You probably don't need an OLED screen on your next keyboard, but SteelSeries has included one anyway in the gorgeous looking Apex Pro. The slender, aluminum alloy frame and wrist rest jars wonderfully with the chunky, RGB-lit keys that sit atop SteelSeries' OmniPoint mechanical switches.
These offer adjustable actuation, allowing players to register keystrokes within travel distances of 0.4-3.6mm. That's a differentiating factor at this price point ($199), considering that the Steelseries offers all the same features as Corsair's flagship, minus the optical switches and a set of dedicated macro keys.
Also, the sleek magnetic wrist rest on the Apex Pro won't feel as comfortable as the thicker, plusher pad on Corsair's K100 during extended gaming sessions. However, SteelSeries does have another advantage over its rival, and that's the option of going TenKeyLess (TKL). The Apex Pro is available in a smaller, more affordable version that does away with the numeric keypad for users short on desk space or those with a preference for this particular layout.
Best Bluetooth/Multi-Device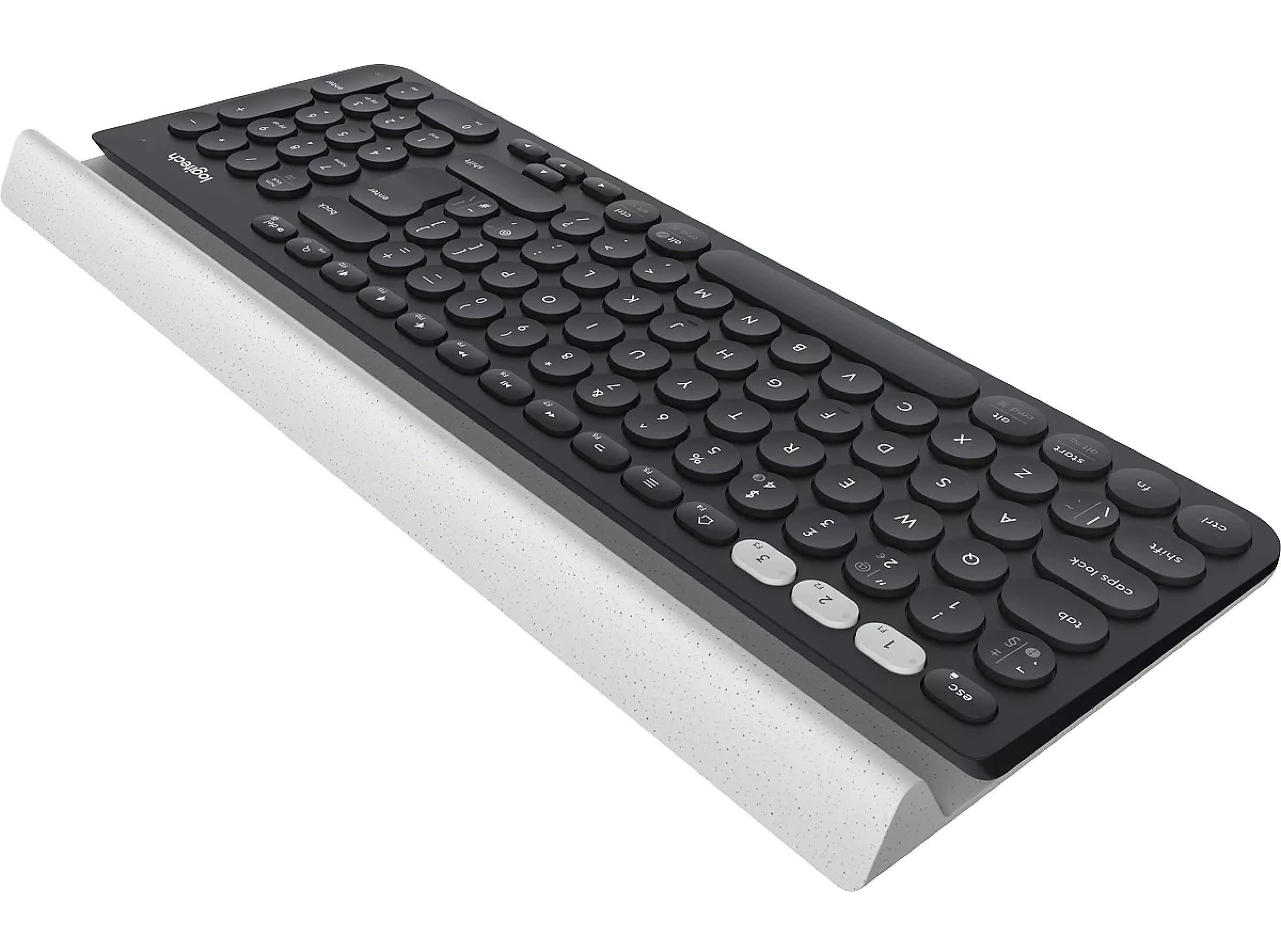 The Logitech K780 is nearly 5 years old, but its age only happens to go in its favor as the keyboard can now be had for just $56. It has firmly remained our recommendation in this category for several years and for good reason... Wireless? Check. Bluetooth? Check. Device switching? Check. Integrated tablet stand? Check.
The K780 can manage up to three devices running distinct OS (iOS, Android, Windows, Chrome OS, you name it), and if you're on a desktop or laptop that doesn't have Bluetooth, Logitech includes its own Unifying receiver.
The K780's round keys might feel unusual at first but don't take much time to get used to. A side benefit of this design is more generous spacing between keys, which helps to keep mistypes down to a minimum.
Pairing to a new device is easy: you simply hold down the F1, F2, or F3 buttons until their respective lights flash rapidly. At this point, the keyboard is in Pairing Mode and will be visible to all nearby devices. Complete the connection on that device, and you're ready to go.
The K780 is comfortable and responsive enough for most people's typing needs with a good amount of travel, and Logitech's PerfectStroke key system makes it quieter than most keyboards. Unfortunately, the device suffers somewhat due to the lack of a built-in stand -- the K780 does have a slight front to back incline to make typing more comfortable, but extra adjustment options would have been excellent. The K780 lacks a few fancier features like backlighting, but since it can withstand up to two years of heavy use before needing a battery swap, we won't complain too much there.
Logitech offers a few similar Bluetooth keyboards at this price point, but we consider the K780 to be the most well-rounded in terms of features and design. If that's a little more than you were hoping to spend, the cheaper and more basic K380 ($30) is a solid option, too. Its smaller and the lighter form factor makes it easier to carry around than the K780, but it lacks a built-in smartphone or tablet holder, which means you'll need to get more creative with your positioning.
The ergonomically designed K860 wireless is all about user comfort. Its curved, split-key layout, pillowed wrist rest and adjustable palm lift is meant to reduce strain and improve typing posture. The K860 brings Logitech's usual feature-rich connectivity experience to the table (or your desk), including Wireless and Bluetooth modes, Flow and Options app support, and wide OS compatibility.
It uses a pair of AAA batteries that can last for up to two years and is helped by the fact that there's no backlighting.
The quiet chiclet keys are geared towards typists and users in office environments, though they'll need to clear up some space due to the K860's rather large footprint. It's a 109-key full-sized keyboard, and the unusual design with the fixed palm rest end up in a slightly bulky 1.16 kg/2.56 lb keyboard. At $120, the K860 it's twice the cost of the K780, but user comfort features and modern design might help justify the price difference, making it a worthy alternative.
Best Budget
The Logitech MK270 combo is discounted every few months, but even at its current $24 price point, the wireless keyboard-mouse kit is one of the best and cheapest models around. Its spill-resistant design may not be as sleek as rivals like the Microsoft Wireless Desktop 900, and the accompanying mouse might seem a bit unhandy due to its small size. However, that's still better than having no mouse at all, and make the overall package suitable for bulk purchases and for users on a tight budget.
The MK270 has a standard full-sized layout, with keys that are slightly concave for a more natural typing experience. There's also a full set of dedicated shortcut and media keys at the top, that are not only quite useful by default, but their programmable nature makes them even more convenient and a rarity among keyboards in this range.
Alternatives
The low-cost market for keyboards is broad and fiercely competitive, so even slight adjustments to your budget will sprout new options. For $10 more, you can get the Logitech MK345 wireless, which adds much-needed user comfort features like a slightly bigger, better designed mouse and a fixed palm rest.
Like the MK270, this keyboard uses 2 x AAA batteries for a 3-year battery life, while the mouse lasts a bit less (1.5 years) as compared to the 2-year battery life on the cheaper model. You'll have to do without the dedicated keys on the MK345, though compromising one feature for another is a usual occurrence in the budget category.
Users looking to keep the wire and save some more money should consider Microsoft's Wired Desktop 600 mouse/keyboard combo. It does the job for $26 and we've seen it bundled with many a PC over the years. You won't find a first-rate typing experience here, but a cheap, basic wired keyboard and mouse coming in at under $30 is a pretty sweet deal in our books.
There's also the GranVela MechanicalEagle Z-77, one of the cheapest mechanical keyboards around at $32, but also one of the most well-received. In our own testing, we were pleasantly surprised by the its typing experience and semi-customizable, multi-colored backlight. The Z-77 is also a wired device, so if the MK270R's battery-swapping needs deter you, this could be a great alternative. However, it is tenkeyless, so you'll need to grab a separate numpad if your work or play demands one.