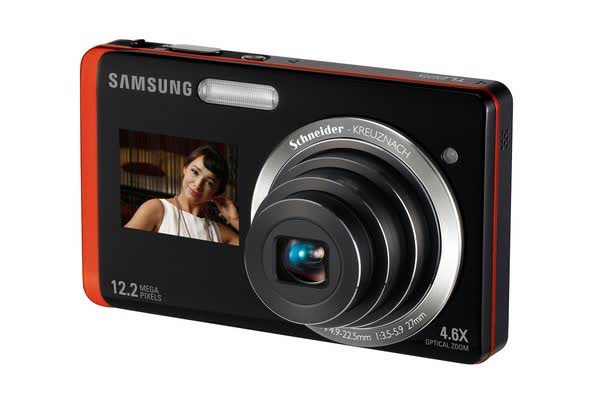 TechSpot Metascore
Based on
9

expert reviews
Excellent:

3

Good:

5

Average:

0

Bad:

1
Pros:
Attractive styling, 27-124mm eq. lens is wide with decent telephoto reach, Very simple control layout, Excellent hi-res 3.5-inch LCD monitor, Front 1.5-inch screen a lot of fun, Dual Image Stabilization (optical/electronic), Captures 1,280 x 720p video...
A front and back LCD screen and full touchscreen capability make this a camera worth looking into.
Innovative dualscreen display, Cool touchscreen UI with gesturebased controls.
Cons:
Touch screen menu not nearly as sophisticated or intuitive as competitors, Tilt control doesn't work well, Uses easy-to-lose, hard-to-handle microSD/microSDHC cards, Minimal manual adjustments, Difficulty using touch screen when mounted on tripod, Sof
Low quality pictures in darker settings could be improved.
TechSpot is supported by its audience. When you buy through our links, we may earn a commission.
Learn more
.
Attractive styling, 27-124mm eq. lens is wide with decent telephoto reach, Very simple control layout, Excellent hi-res 3.5-inch LCD monitor, Front 1.5-inch screen a lot of fun, Dual Image Stabilization (optical/electronic), Captures 1,280 x 720p video
A front and back LCD screen and full touchscreen capability make this a camera worth looking into
Innovative dualscreen display, Cool touchscreen UI with gesturebased controls
High-resolution widescreen LCD, Touch interface easy to use and responsive, Wide angle lens with 4.6x optical zoom, Surprisingly useful front LCD, Excellent build quality, Very good image quality, 720p HD video
Front LCD is fantastic for creating selfindulgent photos. Focal length starts at 27mm, which makes for great wideangle shots
Unique DualView LCD technology, Small and stylish form factor, Haptic touch screen, Good image quality, Sharp lens
Large automatic shooting feature set; responsive touch-screen navigation; unique dual-screen design
The DualView TL225's "wow" factor is off the charts with two LCDs, Touchscreen LCD on back is large, bright, and sharp one of the best around, Image quality is very good, Autofocus works very well most of the time, Menu structure is easy to understand
Fantastic image quality, Frontfacing LCD & large touch screen LCD on back, 720p Video w/ HDMI output
Excellent image quality. Versatile front-facing LCD. Thin design. High-resolution 3.5-inch touch-screen display with haptic feedback. HDMI-CEC support
Touch screen menu not nearly as sophisticated or intuitive as competitors, Tilt control doesn't work well, Uses easy-to-lose, hard-to-handle microSD/microSDHC cards, Minimal manual adjustments, Difficulty using touch screen when mounted on tripod, Sof
Low quality pictures in darker settings could be improved
Expensive, Poor battery life, Supports only microSD and microSDHC storage cards
Zoom actually only 6 discrete steps, User interface sometimes uses cryptic English, Very slippery case, easy to drop, Front LCD a bit dim, Very tippy resting on flat surface, Colors a bit oversaturated, No HDMI cable included in box, Bundled software Wind
Soso image quality, especially in low light. Long shutter lag means many missed moments. Touchscreen isn't very responsive or protected by a plastic screen — we felt like it could get damaged pretty easily. Style: UltracompactResolution: 12.2 me
ISO performance not great, Uses MicroSD (Really?), Video quality subpar, Slow image buffer
Adapter needed for HDMI output; microSD card requirement might irk some; touch-screen interface not for everyone; battery charges in camera; whole screen not used for framing shots at full resolution
Camera can be a little tough to hold comfortably because of large LCD, Not surprisingly, an LCD that occupies the entire back of the camera is easy to smudge, Only can charge battery while it's in camera, Macro mode images sometime wash out when flash
Long shutter lag, Proprietary HDMI & USB connectors
Noticeable shutter lag. Audio is muted when you zoom during video capture. Proprietary USB and HDMI Ports