ThermalTake Element S VK60001N2Z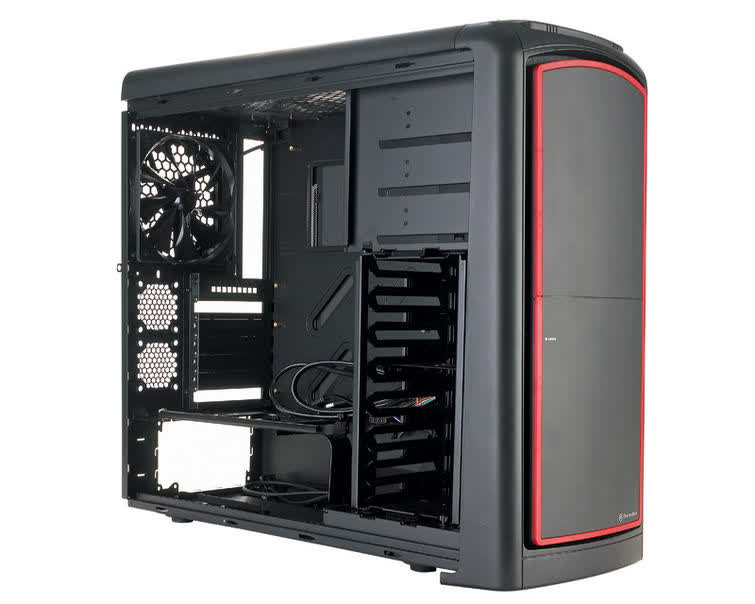 Pros:
Plenty of hard drive bays; SSD bays; nicely configurable.
Good cooling performance, Quiet, Easy installation, Excellent cable management features, Roomy interior for a midtower, Unique look
Nice black finish throughout the case, Plenty of room for hard drives (seven 3.5" and two 2.5"), Antivibration rubber edging on the side panels, Up to six fans can be installed (three included), Fans are fairly quiet
Cons:
No eSATA; only three optical drive bays and two front USB ports.
Could use a few expansion slot covers, Only one front fan included, Graphics area cooling could be better, No toolfree solutions for ODD and expansion devices
TechSpot is supported by its audience. When you buy through our links, we may earn a commission.
Learn more
.
Plenty of hard drive bays; SSD bays; nicely configurable
Good cooling performance, Quiet, Easy installation, Excellent cable management features, Roomy interior for a midtower, Unique look
Nice black finish throughout the case, Plenty of room for hard drives (seven 3.5" and two 2.5"), Antivibration rubber edging on the side panels, Up to six fans can be installed (three included), Fans are fairly quiet
Looks Nice, Good Cable Management, Easy To Install A Rig In, Red LED 230 mm Top Fan, Massive Air Flow, Easy On The Eyes
Noise reduction methods seemed to help reduce fan and hard drive noise, Matteblack finish gives users unique option that veers from standard PC cases in this price range, Three fans included (two 120mm, one 230mm), Sevenbay, removable hard drive cage
Looks, Massive HDD Space, Cooling Performance, Near Silent, Black Painted Rear And Inside, Price
Elegant styling, Excellent cooling options, Vast modding potential, completely black inside and out, Huge 230mm Red LED fan, total of 6 fan placements in this model, Red accent around door, Perfect for the BloodRage
All-metal, all-black interior; excellent cable routing options; 2.5-inch-drive (SSD) mount; versatile drive cage can be front-mounted; rubberized door trim helps quiet interior vibrations
Fully featured, Sleek look, VERY quiet, One of the only cases with SSD mounting spots, Toolless hard drive system
No eSATA; only three optical drive bays and two front USB ports
Could use a few expansion slot covers, Only one front fan included, Graphics area cooling could be better, No toolfree solutions for ODD and expansion devices
Lots of plastic, Steel covers need to be removed before installation, Nonremovable motherboard tray, No toolless options for 5.25" drives or expansion cards, No available external 3.5" bay or adapter, 60mm fans on rear panel (if installed) block expansion
CPU Motherboard Cutout Is Not For Both AMD And Intel Rigs, Heavy (19.49 lbs)
Graphics cards will not fit if they are longer than 10.5", No rubber grommets for noise/vibration reduction for hard drives and fans, No removable motherboard tray, Tight fit for PSU and triple graphic card configurations, Fairly poor cable management
CPU Cooler Backplate Hole Incompatible With X58 Mainboards
Plastic door and hinges feel flimsy; drive cage uses proprietary screws; top-mounted power switch easy to accidentally hit
User guide is not that descriptive