AMD ATI Radeon HD 5970 2GB PCIe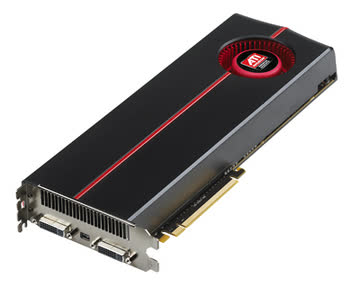 Pros:
Outstanding graphics performance. DirectX 11, Eyefinity support.
Undefeated performance in contemporary games, Wide range of supported FSAA modes, Best Edgedetect CFAA in the industry, Best anisotropic filtering in the industry, Supports up to three monitors, 3200 ALU, 1600 texture processors and 64 raster processors.
Fastest card currently available, low idle power draw, runs cool, great performance
Cons:
Large size, Heavy weight, High level of noise in 3D mode, Dependence on software multiGPU support.
Availability, will struggle to fit into most cabinets
TechSpot is supported by its audience. When you buy through our links, we may earn a commission.
Learn more
.
Outstanding graphics performance. DirectX 11, Eyefinity support
Undefeated performance in contemporary games, Wide range of supported FSAA modes, Best Edgedetect CFAA in the industry, Best anisotropic filtering in the industry, Supports up to three monitors, 3200 ALU, 1600 texture processors and 64 raster processors
Fastest card currently available, low idle power draw, runs cool, great performance
Fastest DirectX 11 compatible graphics accelerator available, Consumes 48W at idle and 299W under full load, Eyefinity Technology through DisplayPort and DVI (x2), Outstanding performance for ultra highend games, Fan exhausts all heated air outside of
Best Ever Performance by a Graphics Card, Supports DirectX 11, Supports Multiple Displays
Fastest gaming graphics card currently available; improved power efficiency; unlocked for overclocking
Large size, Heavy weight, High level of noise in 3D mode, Dependence on software multiGPU support
Availability, will struggle to fit into most cabinets
Very Expensive, Runs Hot
Too long to fit in many PC cases; six- and eight-pin power connectors (and a robust power supply) required; still no six-monitor support