Gigabyte GeForce GTX 480 Super OC 1.5GB GDDR5 PCIe GV-N480SO-15I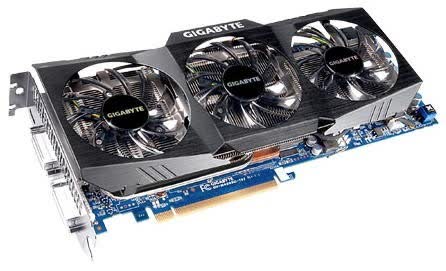 TechSpot Metascore
Based on
4

expert reviews
Excellent:

4

Good:

0

Average:

0

Bad:

0
Pros:
High quality components for overclocking, Lower power consumption than standard stock card at factory overclocked settings, Lower voltage requirement at same clock speeds compared to the Galaxty GTX 480, Quiet Operation, Dual-BIOS (SOC and LN2), Cheap com
Bmr_approved.png, Ultra quiet cooling system with aggressive stock fan profile, Much lower temps than reference designs, Performance on most games is excellent, PhysX capability is great feature with minimal FPS impact, Unmatched power supply design
Nice performance increase over reference GTX 480, High clock speeds out of the box, Triple fan cooler quiet under load, Lower power consumption, Dual BIOS, Good component selection, Runs cooler than reference design, HDMI output, Software voltage control
Cons:
Umption compared to the GTX 580
The GTX 570 does it all for less, GTX 4xx price structure is not realistic at the moment, Hot air from GPU cooler stays inside case, Not the fastest GPU on the planet anymore
TechSpot is supported by its audience. When you buy through our links, we may earn a commission.
Learn more
.
High quality components for overclocking, Lower power consumption than standard stock card at factory overclocked settings, Lower voltage requirement at same clock speeds compared to the Galaxty GTX 480, Quiet Operation, Dual-BIOS (SOC and LN2), Cheap com
Bmr_approved.png, Ultra quiet cooling system with aggressive stock fan profile, Much lower temps than reference designs, Performance on most games is excellent, PhysX capability is great feature with minimal FPS impact, Unmatched power supply design
Nice performance increase over reference GTX 480, High clock speeds out of the box, Triple fan cooler quiet under load, Lower power consumption, Dual BIOS, Good component selection, Runs cooler than reference design, HDMI output, Software voltage control
Umption compared to the GTX 580
The GTX 570 does it all for less, GTX 4xx price structure is not realistic at the moment, Hot air from GPU cooler stays inside case, Not the fastest GPU on the planet anymore
Tough buying decision due to GeForce GTX 580 availability, Limited additional OC potential over out of the box clocks, Voltage measurement points and dual BIOS button hard to reach, DirectX 11 relevance limited at this time