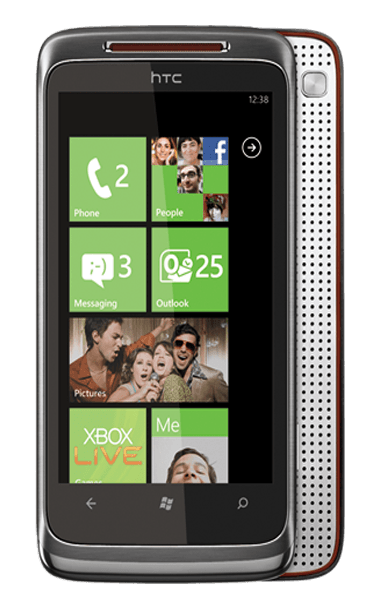 Pros:
Highquality design, Bright touch screen, Fast and responsive operating system, Easytouse music player.
It's Windows Phone 7!, Comes with 16GB of user available storage, Very useable, high quality phone and multimedia device.
Build quality is top notch; loud, high quality speaker; beautiful display; slick user interface; kickstand for watching videos and projection when listening to music through the Dolby speaker; one of the best mobile web browsing experiences to date.
Cons:
Speakers weigh down phone, No expandable memory, Unimpressive camera
The slideout speakers are gimmicky and don't really improve the sound, Overall build quality is a bit 'soft' especially around the screen edges and the fit of the back cover, The available applications are clearly lacking some polish.
TechSpot is supported by its audience. When you buy through our links, we may earn a commission.
Learn more
.
Highquality design, Bright touch screen, Fast and responsive operating system, Easytouse music player
It's Windows Phone 7!, Comes with 16GB of user available storage, Very useable, high quality phone and multimedia device
Build quality is top notch; loud, high quality speaker; beautiful display; slick user interface; kickstand for watching videos and projection when listening to music through the Dolby speaker; one of the best mobile web browsing experiences to date
Windows Phone 7 OS, 16GB built-in memory, Long battery life, Kickstand
Quality construction, Responsiveness with WP7, Dynamic aspects of the homescreen, Zune integration, Accurate onscreen keyboard, Powerful speaker
Touchscreen looks good and responds well, Dedicated button for camera functions
Good build quality, Runs fast and fluid, HTC Hub adds useful apps, Dolby speaker sound is full and clear
Well built, Runs Windows Phone 7 well, Quick camera
Huge slide-out speaker. Kickstand for watching videos. Windows Phone 7 looks great
Great text input, decent battery life, kickstand, good call quality and data rates
Speakers weigh down phone, No expandable memory, Unimpressive camera
The slideout speakers are gimmicky and don't really improve the sound, Overall build quality is a bit 'soft' especially around the screen edges and the fit of the back cover, The available applications are clearly lacking some polish
No microSD card slot or room for expandable memory; bloated with animations; apps can take up to ten seconds to launch, sometimes more, then you have to wait on the information to load; hard to locate settings for apps sometimes; poor battery life; diffic
Poor photo and video quality, No expandable memory slot, Warbly cell call quality, Unnecessary slide-up speaker
Not yet a fully mature platform, Static sound during phone calls, Mediocre battery life
Pullout speaker system sounds tinny, Maximum upload speed on AT&T is too slow
Short battery life, Slide-out speaker adds heft, App selection is lacking, No multitasking with third-party apps
Speakers not worth the size / weight penalty, Camera doesn't take great pictures, No landscape support in software
OS doesn't really work in landscape mode. Big speaker can't be used as speakerphone. Short battery life
No 3rd party app multitasking or copy/paste, few applications available, no task switcher, no USB mass storage, no microSD card slot