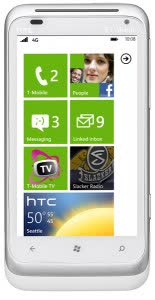 Pros:
Attractive, wellmade and affordable Windows Phone.
Feels well-crafted, Bright screen, Windows Phone 7,5 (Mango) OS is smooth as silk.
Premium build and construction, Smooth performance
Cons:
Limited storage for serious music folks, battery not user replaceable.
Not really 4G, Mediocre reception, No Wi-Fi calling like with other T-Mobile smartphones.
TechSpot is supported by its audience. When you buy through our links, we may earn a commission.
Learn more
.
Attractive, wellmade and affordable Windows Phone
Feels well-crafted, Bright screen, Windows Phone 7,5 (Mango) OS is smooth as silk
Premium build and construction, Smooth performance
Good construction, good camera, solid battery life
Limited storage for serious music folks, battery not user replaceable
Not really 4G, Mediocre reception, No Wi-Fi calling like with other T-Mobile smartphones
Specs are last generation, Videos are rather dull looking
Call audio hiss, nonreplaceable battery, illfitting rear cover