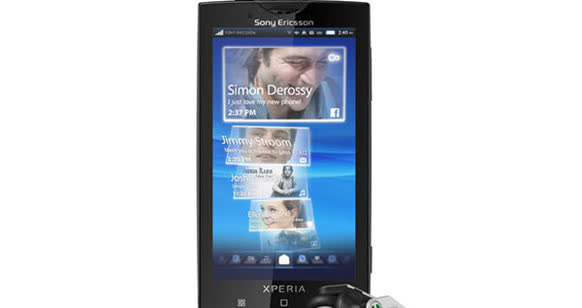 TechSpot Metascore
Based on
60

expert reviews
Excellent:

9

Good:

30

Average:

11

Bad:

10
Pros:
Camera functionality good, large screen
Nice camera, even including face recognition and a variety of camera modes. Impressive audio quality and loudness, if you're one of those people that still talks on his phone.
Large 4-inch display, Sharp 8.1-MP camera, Fun Timescape app aggregates social updates, Mediascape app organizes music, photos, and videos
Cons:
Sharpness and dynamic range issues
Troubling data entry problems. Sony skin can get overwhelmed for heavy Facebookers and Twitter friends. Ancient Android version (1.6) installed. Still suffers from a few performance stutters here and there.
TechSpot is supported by its audience. When you buy through our links, we may earn a commission.
Learn more
.
Camera functionality good, large screen
Nice camera, even including face recognition and a variety of camera modes. Impressive audio quality and loudness, if you're one of those people that still talks on his phone
Large 4-inch display, Sharp 8.1-MP camera, Fun Timescape app aggregates social updates, Mediascape app organizes music, photos, and videos
Great camera for the price. Excellent video playback. Good battery life
Camera, large screen
Nice user interface; great camera; cool app
Large screen, fast processor
Big 4-inch display, slim and lightweight (despite the brick-like appearance), easy to use media application (MediaScape), unique timescape application, turn by turn navigation app included, decent battery life, swift running UI
Superb Looks & Design, Great Large Display, Very Good for Web Browsing, Camera Shoots Very Good Still Images, Fun to Watch Videos On
It has a stylish design that looks and feels good, It's packed with highend features like an 8megapixel camera, Solid battery life for a device with this screen size, The custom UI is very visually appealing and the multimedia and camera tweaks rock
Elegant design; large display, Fast, Good photo and video quality, Solid call quality, Ample amount of builtin storage
Display, Timescape, mediascape, looks, 1GHz processor, 8MP camera
Sleek looking handset, comfortable to use, Camera quality is quite good, Audio player is loud and clear, Mediascape and Timescape UI's are well designed and user friendly, Good battery life
Attractive design, Large 4inch screen, Consolidated timeline for social networks
The large four-inch touch-display makes for improved video viewing and web surfing
Gorgeous 4inch display, Excellent 8megapixel camera
Large 4-inch touchscreen display; 3.5mm audio jack; 8.1-megapixel camera; bundled apps for Exchange support; Android 2.x upgrade announced
The Sony Ericsson Xperia X10 has a user-friendly design with a brilliant display. The feature set is generous, the internal performance is fast, and call quality is satisfactory
Infinity button aids navigation. Effortless Timescape app. Responsive Dolphin browser
Excellent hardware, great screen, fast processor
Beautiful device, with the new Android skin Rachel, 4" touchscreen with true 16:9 aspect ratio, 8.1 megapixel camera with LED flash, 1 GHz snapdragon chip, Special applications: Timescape, Mediascape and face recognition technology, Comes packa
Sharpness and dynamic range issues
Troubling data entry problems. Sony skin can get overwhelmed for heavy Facebookers and Twitter friends. Ancient Android version (1.6) installed. Still suffers from a few performance stutters here and there
Lacks multitouch, Noticeable lag, Outdated Android 1.6 OS, No HD video capture
Slow. Old version of Android. Clumsy Exchange and social-networking integration. Bloatware
Poor battery life, Mediascape and Timescape, Keyboard takes some getting used to, Freezes occasionally, slow touchscreen response
Poor virtual keypad, no FM radio; short battery life
No multi touch, no offline charging possible
LED flash could have been more powerful, DivX/XviD support removed despite big screen and powerful hardware, average quality earphones bundled, currently runs on older Android 1.6
Sluggish UI, Mediascape Interface Doesn't Do Much, Call Quality & Battery Life Issues
It's only running Android 1.6, which is a nonstarter for me, The custom UI software makes it extremely sluggish, Unlocked pricing only at this point, which is way too expensive considering the competition, I hate removing battery to change microSD c
Custom UI hurts much more than it helps, Initially stuck on Android 1.6, Rivals in a similar price range sometimes more compelling, Typical smartphone battery performance
Android V1.6, Average camera output, No FM radio
New UI's tend to make the handset sluggish, No FM radio, Camera supports up to VGA resolution
Timescape slows down if overloaded with feeds, Lack of physical search button, Bulky
Despite the inclusion of a 1 GHz Snapdragon processor, the X10 can at times prove rather sluggish especially when auto-rotating.Look and Feel
No multitouch support, Android 1.6 is outdated
Lagging software, Android 1.6, Very weak camera flash (practically useless), Integration of social services that is not good enough, Interface elements that need finishing touches, Lack of DivX and Xvid support
May be a bit big for some users; Timescape interface nice but limited in function; expensive compared with similar models from other brands
The Sony Ericsson Xperia X10's data performance was spotty. The Timescape application has its faults, you must use a third-party app for Outlook calendar syncing, and the landscape keyboard doesn't work in the messaging app
Problematic flash. Face Recognition failures. Runs old version of Android
Android 1.6, AT&T's Orwellian Walled Garden, Rating: Do Not Buy
No multitouch capabilities, Battery performance exceedingly poor