Verizon Wireless Continuum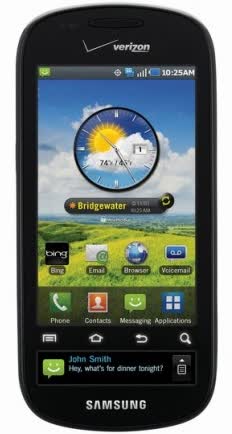 Pros:
Good form factor, Clever Ticker display, Capable 5MP camera with 720p video, TouchWiz handy for newcomers, Inexpensive for the speed and features.
Super AMOLED screen really shines, Secondary "ticker" display is surprisingly handy, Quick and responsive, Good external speaker, Camera produces good shots, if you're careful and/or skilled.
Bright and beautiful screen, Second screen for constant updates, Fast and responsive, Phone is sleek and well made, Easy to use
Cons:
Forced use of Bing, Samsung slow on Android upgrades, Outperformed by 2011 phones, Main screen may be too dense for bigfingered owners.
Voice quality is less than desired, Video quality also could be better
TechSpot is supported by its audience. When you buy through our links, we may earn a commission.
Learn more
.
Good form factor, Clever Ticker display, Capable 5MP camera with 720p video, TouchWiz handy for newcomers, Inexpensive for the speed and features
Super AMOLED screen really shines, Secondary "ticker" display is surprisingly handy, Quick and responsive, Good external speaker, Camera produces good shots, if you're careful and/or skilled
Bright and beautiful screen, Second screen for constant updates, Fast and responsive, Phone is sleek and well made, Easy to use
Secondary display can be useful, Zippy performance overall
Good call quality, decent battery life, solid camera, WiFi hotspot support
Ticker displays social updates, RSS, and messaging alerts, Grip sensors activate ticker, Excellent 720p camcorder, Attractive, compact design
Fits comfortably in the hand, Dual Super AMOLED displays, Fast 1GHz Hummingbird processor, Stereo speakers for good music playback, Above average call quality
Small and light. Feels well-built. Ticker display shows useful information
The Samsung Continuum features two displays; the smaller ticker window is a great tool for quickly accessing information and multitasking. The smartphone also has a 1GHz processor and a 5-megapixel camera with HD video capture. It offers full wireless
Forced use of Bing, Samsung slow on Android upgrades, Outperformed by 2011 phones, Main screen may be too dense for bigfingered owners
Voice quality is less than desired, Video quality also could be better
No sure about the second screen, Verizon junk installed, It uses Bing
Search and Maps powered by Bing, not Google, Narrow display makes typing difficult
Display feels cramped, software doesn't feel finished, older version of Android installed
Small main display, Ticker causes some performance lag, Mediocre voice quality, Search button only uses Bing
Can't replace the Bing search widget with Google, Back of the phone feels slippery
Mediocre voice quality. Redundant social-networking and e-mail clients. Ticker can show old data
The smaller screen makes for a more cramped typing experience. Ticker display currently isn't available for third-party apps. Runs Android 2.1, and Bing is set as the default search engine. You can't uninstall preloaded apps and services